Alaska Airlines (NYSE: ALK) was one of the first mainline airlines where disruptions due to pilot shortages became apparent, as the airline cancelled about 4% of its daily flights as the airline was 63 The pilot was shorter than scheduled. It eventually forced the CEO of Alaska Airlines to release an apology video in which he outlined plans to hire 150 pilots, 200 booking agents and 1,100 flight attendants. The problems the airline faces are not unique to Alaska Airlines, but make analyzing the full quarter's financial results very interesting.
As a starting point for this analysis, we'll look at the updated guidance for the second quarter of 2022 to see how they compare to what Alaska Airlines actually achieved. Then peruse the detailed income statement and third-quarter guidance.
Strong demand balance

For the second quarter, updated guidance reduced capacity slightly, while strong demand is expected to drive higher capacity and passenger revenue at stable unit costs. It is positive to leave CASM-Ex unchanged in guidance given that capacity is expected to be slightly lower in the most positive range. Less aggressively, but certainly realistic, is the expected increase in fuel cost per gallon.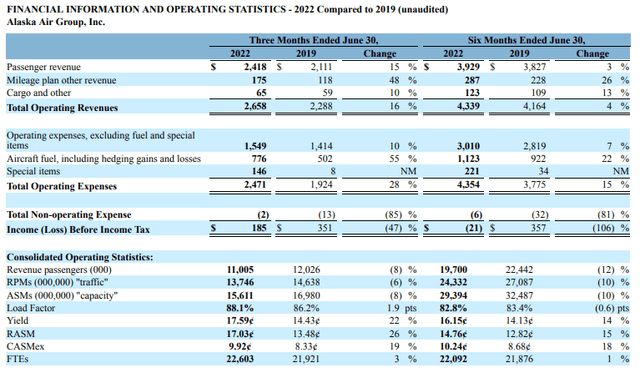 Alaska Airlines finally reported a 16% increase in revenue, compared with previous guidance in the 12%-14% range. As a result, Alaska Airlines beat its own guidance by a wide margin, helped by strong ongoing demand and pricing, which pushed its June revenue to a record $1 billion. Capacity fell 8%, which was worse than guidance and reflected ongoing challenges for Alaska Airlines, but the airline said it now has a better understanding of its training pipeline and is more conservative in its schedule, while capacity Passenger numbers were better than expected as load factor improved. CASM-ex Fuel rose 19%, at the high level of Alaska Airlines guidance.
All in all, I believe the results were strong as lower capacity was offset by strong demand for air travel and pricing. An important item to discuss is the cost of fuel. These rose 183% due to higher fuel prices and increased flying activity. Economy fuel prices ended up at $3.76 per gallon, above Alaska Airlines' guidance. So the two recurring factors that we're seeing with airlines is that they're not really getting their fuel guidelines in the right range and they don't have the capability. To reduce fuel bills, Alaska Airlines has implemented a fuel hedging measure, which is expected to provide $200 million in fuel bill relief this year. The second quarter was $90 million, with an expected $50 million reduction in the third quarter.
In dealing with the issues facing the industry as a whole, we're seeing Alaska Airlines increase hiring, hiring 150 pilots, and be more conservative in its schedule. This is a set of measures that are indistinguishable from what a competitor is doing. On the regional side of its business, I found that Alaska Airlines did not provide a comprehensive plan on how to restore capacity there. This may be disappointing, but I believe there isn't much that regional airlines can do to retain pilots at this time. They can improve their fleet, remove smaller, less efficient parts of the regional fleet, and keep the training pipeline fluid. Another step is to align pay with the mainline, but even mid-tier airlines like Alaska Airlines may not be able to prevent layoffs.
Q3 Guidance: Further Improvement in Revenue Growth

For the third quarter, Alaska Airlines expects capacity to decline by 5% to 8%, implying a modest increase in capacity as output from the training pipeline improves. Revenue passengers are expected to decline by 8% to 10%, also improving compared to the updated guidance for the second quarter, while passenger factors are expected to be in the range of 85% to 88%, slightly lower than the airline's forecast in the second quarter. guidance, and this is not unexpected, as the increase in capacity will somewhat restrain the load factor from moving towards more normalized numbers. However, revenue growth is expected to accelerate, so Alaska Airlines sees a strong pricing environment ahead that may not reach earlier peak levels, but is still very strong. The big question, of course, is whether Alaska Airlines can translate that into profit growth, as economy fuel prices are expected to be as high as $3.79 to $3.89 per gallon, and CASM-Ex growth is in line with total revenue.
As a result, third-quarter revenue is expected to increase by $380 million to $455 million. Fuel costs are likely to be cut by $15 million to $40 million, and labor costs are also expected to cut some of the revenue growth. At the GAAP level, I expect a significant improvement as the second quarter results include a fleet restructuring charge of $146 million, although the write-off is fleet dependent, I don't expect that to be as high in the second quarter due to Alaska's transition plan and implement. Overall, Alaska Airlines should have room for sequential margin expansion, although I do see some pressure from higher fuel prices and labor costs.
in conclusion
Overall, the benefits aren't exciting, as there aren't many unexpected projects. We saw strong demand and beat-to-guide unit fuel costs resulting in double-digit adjusted operating margins. I would say that Alaska Airlines has more room to recover margins, fuel costs will be higher in the third quarter, but revenue will also be higher as the strong demand environment continues. Obviously, demand could be weak, especially because of concerns about a slowing economy, but there are areas where growth is still down significantly compared to 2019, and Alaska Airlines could do something about it. Business travel is down about 20% to 25%, and even with slower economic growth, I expect business travel demand to continue to recover, while for leisure travelers, we'll likely see demand decline before current yields drop. So Alaska Airlines can adjust pricing if needed, but in reality demand is expected to decline ahead of earnings, which is not necessary at this point as demand remains high at current earnings levels, even with the rapid decline in both regions of Alaska Airlines can look around for the sweet spot for revenue.