Summary
I recommend buying a small position in Butterfly Network (NYSE:BFLY). BFLY is a company that makes diagnostic imaging equipment, specifically portable ultrasound devices that use semiconductors, AI, and cloud computing. These devices are more affordable and accessible than traditional cart-based systems because they only need one probe to produce a comprehensive image, saving a significant amount of money. However, the thing to take note of is the significant losses that BFLY is generating today. Hence, there might be pressure on share price performance since there is no clear path to breaking even.
Company overview
BFLY manufactures diagnostic imaging equipment. The incorporation of semiconductors, AI, and cloud computing into portable ultrasound devices developed by the company paves the way for universal access to high-quality medical imaging for those in need.
Medical imaging is a large industry
Diagnostic imaging has been used in the medical field for quite some time in an effort to provide more precise diagnoses and consequently more effective treatments for patients. Former market leaders in ultrasound were stationary carts, while newer, portable options have emerged in recent years. These legacy systems are not widely used because of the high costs associated with implementing them. According to BFLY S-1, the average cost of a new legacy cart-based incumbent medical device in a conventional hospital system is between $45,000 and $60,000, and this doesn't even take into account the burdensome maintenance or service contracts that come along with them. Because of the high cost of purchasing and maintaining these devices, as well as the time and effort required to train hospital staff to use them effectively, these tools are often kept in separate, inaccessible departments within healthcare facilities. Another challenge to optimizing care coordination is the difficulty in moving image archives from one system to another as a result of inadequate IT integration and interoperability. The S-1 claims that the handheld competitors' per-probe costs of $5,000 to $7,000 represent a significant savings over those of the older cart-based systems.
Proprietary technology
When it comes to incorporating ultrasound into a semiconductor chip, BFLY is the pioneer. This innovative and patented technology utilizes a single probe to produce an accurate and comprehensive ultrasound image of the entire body. Because it employs cutting-edge technologies (such as AI), the BFLY iQ product is affordable, portable, and easy to use, expanding the reach of ultrasound beyond institutional settings. Compared to current systems, which typically use costly piezoelectric crystal technology, this has a significant impact on lowering the entry barrier and expanding the potential user base.
Additionally, Moore's law suggests that the technology used in Butterfly iQ and Butterfly iQ+ devices will likely continue to advance and improve. According to this rule, the integrated circuits of the future will have a larger number of transistors. The Butterfly iQ+, introduced to the market in October 2020, is a good example; it outperforms the original Butterfly iQ, introduced in 2018, in terms of frame rate, interoperability, and manufacturing cost.
Another thing to highlight is that the Software Development Kit [SDK] is an integral part of BFLY's software strategy, with the stated goal of providing a controlled environment in which third parties can develop applications that will improve the quality of the software as a whole and bring about new developments in both clinical practice and the products themselves. In my opinion, the SDK is fundamental to BFLY software strategy and its ultimate goal of making medical imaging accessible to the masses. As a result of these updates, I anticipate BFLY solutions to replace other point-of-care ultrasound platforms, becoming the backbone of all portable imaging devices and the primary platform on which new features can be built.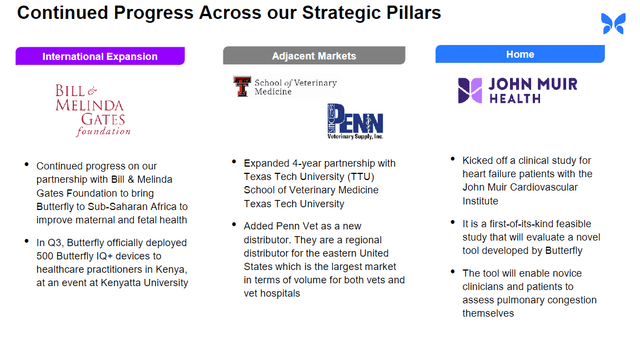 BFLY product is more competitive than traditional handheld competitors
Unlike the Butterfly iQ+, which only needs one probe to cover a wide variety of cleared indications, the typical handheld devices in the market typically need two or three probes to achieve the same level of coverage. In the past, legacy competitors didn't have the AI ​​features that BFLY iQ+ does, so they weren't as crucial to big capital equipment sales teams. This, in my opinion, is a fantastic chance for BFLY to create and dominate brand-new markets, and also to disrupt and expand into existing ones.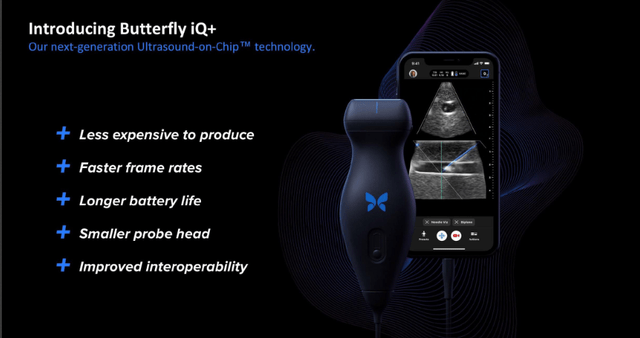 Forecasts put the value of the global ultrasound market at $7.9 billion in 2021, with a 4.5% CAGR between then and 2023. However, at the moment, this industry is restricted to traditional scan settings like hospitals, specialty doctors' offices, and imaging centers in developed markets. Data from S-1 also shows that handheld ultrasound devices make up less than 3% of all ultrasound machines in use.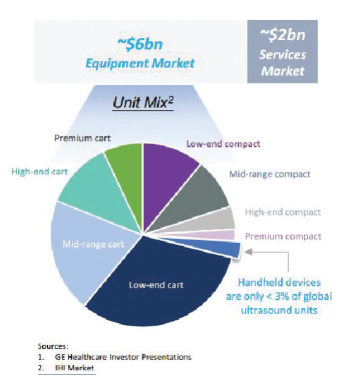 To make ultrasound more accessible, BFLY was the first company to integrate the technology onto a semi-con chip and make it compatible with smartphones and tablets. As a result, BFLY has developed a product that has the potential to significantly increase the TAM and cause widespread disruption in the current ultrasound industry. Users are able to take their Butterfly iQ+ with them virtually anywhere thanks to its compact design. The BFLY program also uses AI to help with image capture, enhance evaluation, mentor and teach medical staff, and ensure high quality results. More importantly, the Butterfly iQ is user-friendly and requires minimal training, making it suitable for use by both ultrasound experts and, potentially, patients themselves, once at-home use is approved by relevant authorities. Due to its portability, low price, and intuitive interface, I anticipate that the Butterfly iQ will find uses beyond the confines of traditional scan environments.
As a result of the market's relatively low handheld device penetration, BFLY has enormous room for expansion. In my opinion, BFLY is in a strong position to compete in the established ultrasound industry and plausibly grow into developing markets thanks to its unique Butterfly iQ handheld device, its increasing number of users, and its sales pacts with leading US healthcare systems and across various platforms.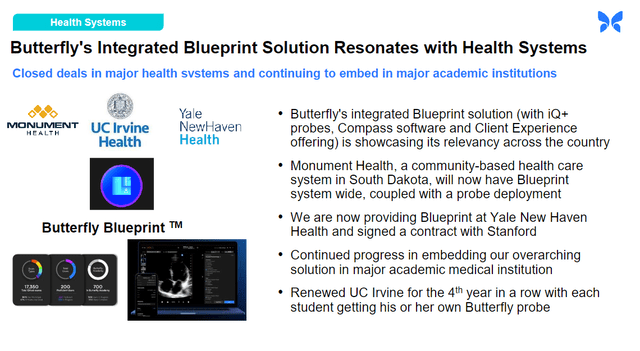 TAM expansion
In addition, I think the Butterfly iQ will greatly expand the range of people who can benefit from medical imaging, as well as the number of people who can use ultrasound scanners, and the variety of settings in which they can be used.
With the Butterfly iQ, medical imaging technology can be used in non-traditional settings, which could greatly expand the total addressable market. As the majority of BFLY users are family doctors, I believe there is considerable interest by many professionals in using such devices in their everyday work.
In addition, as value-based care models gather momentum, I anticipate a market for handheld ultrasound devices among in-home medical personnel and, pending regulatory approvals, among patients themselves.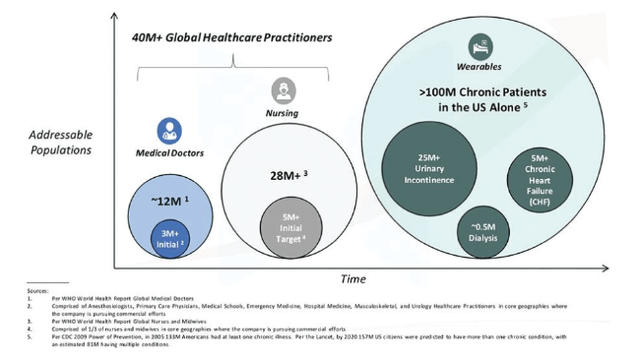 Path to FCF breakeven
While BFLY is unlikely to break even in the near future, this does not mean it will never reach profitability. If we look at the SPAC deck, management mentioned there that post the significant investment period (until 2024), the business will be on track to FCF positive territory. This has obviously not come to fruition given FY24 revenue is expected to be $115 million instead of the $334 million. For BFLY to achieve its target, it needs gross profit of $220 million assuming the same cost structure. This would mean roughly 4x its current business as of 3Q22.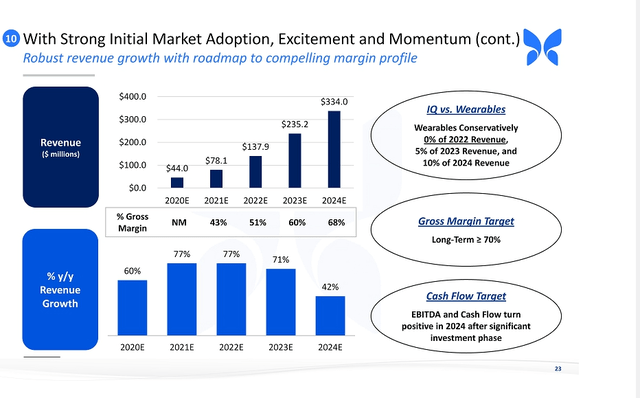 Valuation
I believe BFLY is worth 20% more than the current share price of $2.43. I'd like to point out that BFLY is still experiencing a very strong long-term secular trend, which should allow it to grow in the long run as long as it continues to improve its product.
If I touched on BFLY path to breakeven situation, I believe the narrative on the stock will react the moment the path to breakeven is visible. As such, to gain exposure to that initial revaluation and not be over exposed, I believe a small position is warranted.
As my model assumptions, I used consensus near-term estimates, which are largely based on management guidance. And, with 3x forward revenue, BFLY is valued at around $2.91, which is 20% higher than the current share price of $2.43.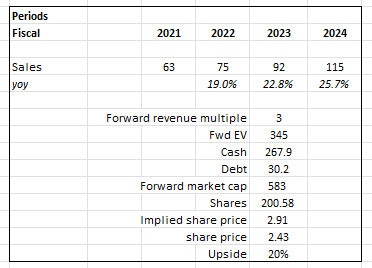 Risks
Significant losses
In the current market, a glance at BFLY's P&L is enough to put off almost any potential investor. If BFLY keeps losing money with no clear path to profitability or breakeven, it may be a while before investors take notice of the company. BFLY may also have to go to the capital markets for funding, diluting the current shareholders.
New technology taking over BFLY
True, BFLY is a market leader due to its innovation; however, this is also a risk for BFLY because another player may innovate a better product. While there is no way to know for certain right now, it will be a permanent burden on the company until it can diversify into multiple product lines.
Conclusion
My advice is to make a small investment in Butterfly Network. BFLY is an organization that produces diagnostic imaging gear, specifically portable ultrasound devices that utilize semiconductors, artificial intelligence, and cloud computing. Compared to conventional cart-based systems, these devices are more easily accessible and inexpensive due to their reliance on a single probe to generate an all-encompassing image. Note, however, the substantial losses that BFLY is currently generating. Given the lack of visibility into a profitable future, there may be pressure on the stock price.