There's an old saying that goes "a good defense is better than a strong offense", and that's something that applies to the markets too. This is considering the disaster of a year for stocks in 2022, with the biggest decline in the S&P 500 (SPY) since 2008, and with many once high flying names like Amazon (AMZN), Google (GOOG), and Apple (AAPL) down between 27% and 50% over the past 12 months.
While I believe in the long-term future of the aforementioned names, I also see value in having a diversified portfolio that includes solid dividend payers that are defensive in nature.
This brings me to Corporate Office Properties Trust (NYSE: OFC), which as seen below, has declined by just 8.5% in price over the past year, with dividends offsetting nearly half that loss. This article highlights why OFC is a stock worth buying at current levels, so let's get started.

Why OFC?
Corporate Office Properties is a self-managed REIT that's focused on office and data center properties that serve high priority defense and cybersecurity missions of the US Government. At present, OFC owns 186 buildings with 90% of the annual base rent derived from properties leased to either the government or its contractors, and the remaining 10% related to regional office properties.
OFC's high exposure to the US government is a key differentiator, as it has built up a reputation over nearly 30 years for developing customized buildings to suit the specific nature of its tenants. This also means that tenants tend to be stickier, and are more likely to renew their leases, resulting in less tenant improvement costs.
OFC continues to exhibit strong portfolio fundamentals, with a 95% leased rate, sitting higher than that of most office REIT peers. It's also seeing strong demand, as OFC achieved a record level of new leasing during the third quarter, at 351K square feet of space. True to its form, tenant retention also remained high, at 92% in the latest quarter, and management expects full year 2022 tenant retention to be 75%.
Unlike other REIT sectors, OFC isn't seeing robust growth in rents, with straight line rents on renewals increasing by just 5% in the latest reported quarter and 2.9% for the first nine months of 2022. However, the company does have a meaningful development pipeline of 12 properties and an expansion of one fully-operational property totaling 1.9 million square feet. This could give OFC more meaningful FFO per share growth than the one cent YoY increase it saw during the third quarter to $0.58 per share.
Moreover, OFC is relatively immune to macroeconomic concerns, making it a good hedge in the event of a recession. Additionally, increased defense spending due to geopolitical tensions bodes well for OFC, as this should result in more demand for its locations. This was highlighted by management during the last conference call:
Our concentration of leases to the US government and high-credit contractors supporting national funds and cybersecurity missions is the foundation of our ability to generate resilient high-quality cash flow. The base Defense budget for fiscal year 2022 was passed in March of this year with a 5.8% increase, and we expect the demand from that increase to continue to materialize through late 2023.

Given the pending election, it's too early to determine the budget increase for fiscal year 2023. But the range of outcomes appears to be an overall increase of 2.6% on the low-end, representing the President's request to Congress and 6.5% to 8% as approved by the Senate and House Armed Services Committees. Given the elevated risk in the global and national security conditions, we have high confidence that the Defense budget will continue to grow in coming years.
Meanwhile, OFC maintains a strong balance sheet, with 92.5% of its debt being fixed rate. It also carries BBB- and Baa3 credit ratings from S&P and Moody's (MCO) and has a safe net debt to EBITDA ratio of 6.3x. OFC's balance sheet quality is reflected by the fact that it was able to issue $1.8 billion of senior unsecured notes since September of 2020 at a weighted average interest rate of just 2.5% over a long weighted average maturity at issuance of 9 years.
While OFC hasn't grown its dividend for a good number of years, it is very well covered by a 47% payout ratio (based on Q3 FFO per share of $0.58). This enables OFC to adopt a self-funding model, making it less reliant on outside capital. Management expects to achieve full self-funding by 2024, after which time I would expect to see meaningful dividend growth.
It appears the market is already discounting OFC for its no-dividend growth in light of an inflationary environment. At the current price of $25.94, OFC trades at forward P/FFO of just 11.0, sitting well below its normal P/FFO of 13.3. I believe OFC deserves to trade at a P/FFO of over 12x, and analysts have a more aggressive price target of $30.50, implying potential for double-digit total returns.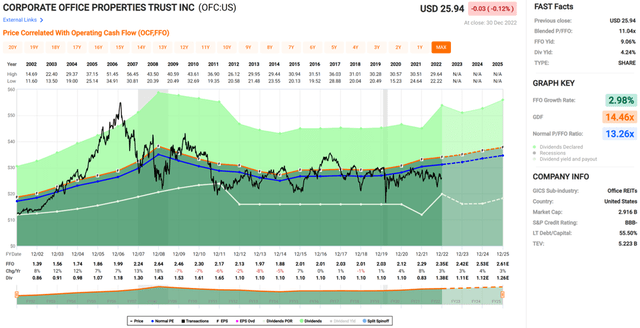 Investor Takeaway
OFC is a uniquely positioned office REIT that provides an attractive option for those looking for stable income, as well as potential capital appreciation. While dividend growth has been non-existent, its low payout ratio means that it is not as reliant on external sources of funding. This could result in dividend growth after it achieves self-funding in 2024. Finally, I view OFC as being a good defensive Buy, considering all the above and its well below average valuation.