Even though the S&P 500 index has fallen by 19% this year in 2022, and 70% of its constituent stocks have fallen, there are still many winners who have gained a lot. The financial website "MarketWatch" lists this year's 20 winner stocks for investors' reference.
Before listing the 20 stocks that closed sharply higher, here's a look at how the 11 S&P 500 sectors performed this year through the close on Dec. 29:
It's no surprise that the energy sector is the only sector that has risen this year, but while the industry's weighted price is up nearly 58%, its forward PE ratio has fallen and remains low relative to other sectors.
Although the price of WTI crude oil closed higher for the whole year, due to the decline in the second half of the year, it gave up most of the gains made earlier this year, far away from the historical high set in March.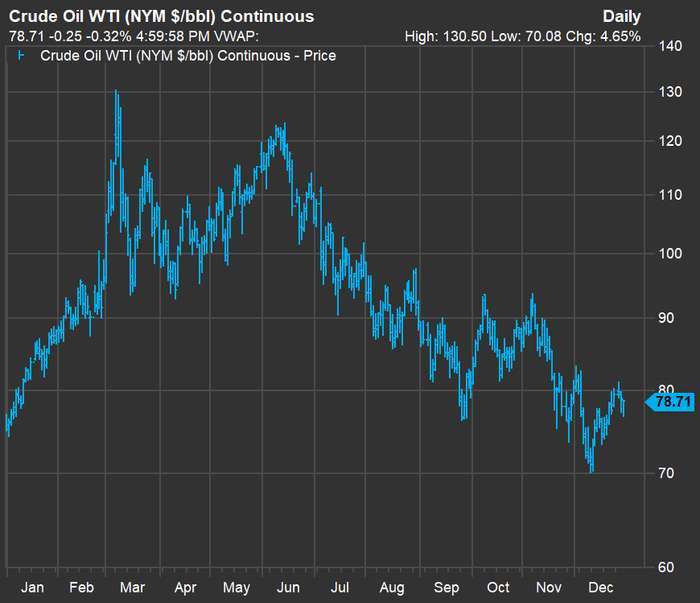 Investors remain confident in energy stocks because oil producers remain cautious about capital expenditures, and they don't want to increase supply enough to send prices tumbling, as happened in the summer of 2014, after the summer of 2014 Oil prices fell steadily until early 2016, setting off a wave of industrial bankruptcy and consolidation.
As Occidental Petroleum (OXY-US) CEO put it, right now oil companies are focusing on maintaining supply, raising dividends and buying back treasury stocks.
Top 20 Performing Stocks in the S&P 500 for 2022 (as of close on Dec. 29, excluding dividends)
According to this list, it can be found that although only the energy sector rose among the 11 sectors, not all of the top 20 belong to the energy industry.