Brett Friedman
Brett Friedman said that the latest developments in cryptocurrencies since the beginning of the Ukraine war are surprising, to say the least, and may indicate whether cryptocurrencies are indeed a viable long-term trading and hedging tool Winhall Risk Analysis.
Surprisingly, early signs suggest it may not be. First up is the current chart of Bitcoin's implied volatility and underlying price (CME futures and options) since early 2022: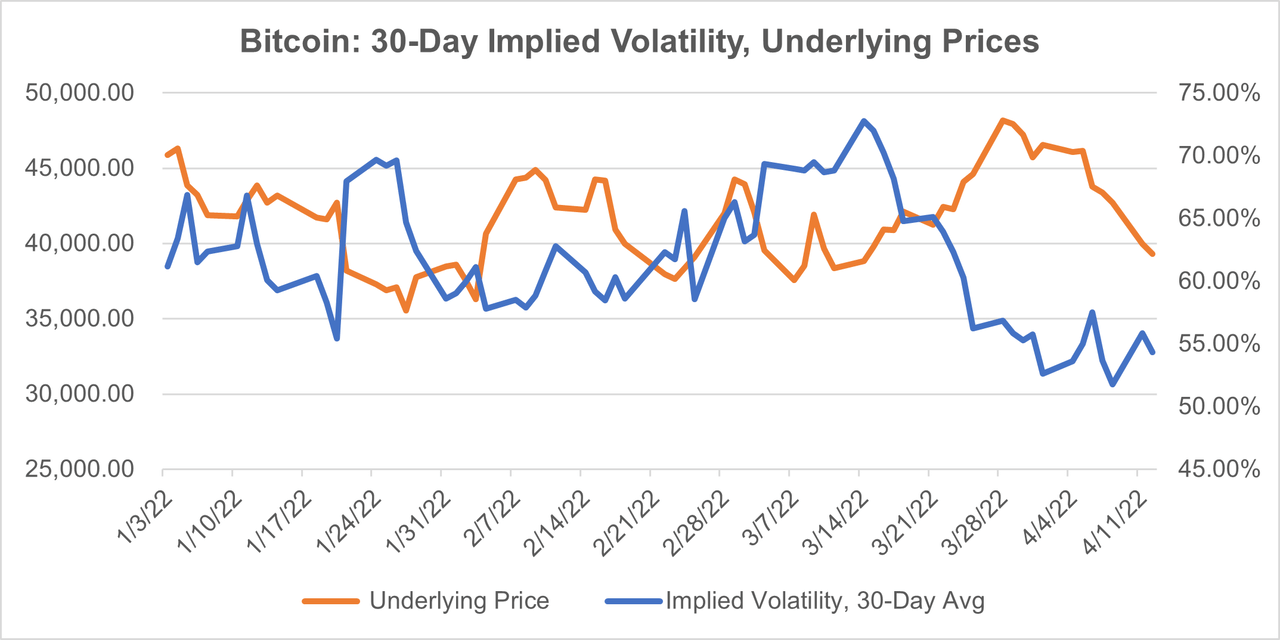 When Bitcoin (BTC-USD) and its cryptocurrency cousins ​​first launched, they were touted as a libertarian antidote to government regulation and tracking, currency devaluation, inflation, war, and sanctions. All these factors were amplified by the war in Ukraine. Inflation accelerated, the SWIFT system was weaponized, and sanctions continued to restrict trade flows. In short, the perfect setup for the cryptocurrency's best timing and impressive rally.
However, nearly two months after the war broke out, cryptocurrency adoption and price action have not been impressive. Take Bitcoin for example. It has averaged around $41,750 so far this year, and has mostly traded between $35,000 and $45,000. After bouncing back to $48,190 in late March, it fell back to $39,295 as of April 13. Its implied volatility has followed a similar trend, falling from a peak of 72.9% in early March to 54.3% now.
Finally, over the long term, Bitcoin Cash transaction volumes have been declining since around 2017:

As a side note, one would have expected the war-related collapse of the ruble to lead to greater cryptocurrency use among Russians and Ukrainians. Surprisingly, after an early surge, ruble-denominated volumes have fallen to pre-war levels: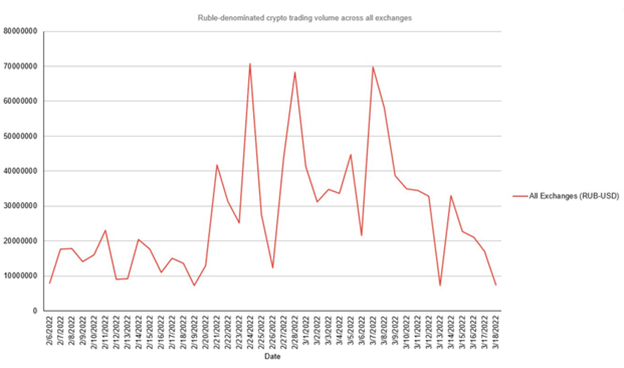 In short, this should be the golden age of Bitcoin, but apparently, it is not performing as expected. That is, if the original rationale for cryptocurrencies was true in the first place. Current developments seem to suggest that this is not the case. A few comments:
The failure of cryptocurrencies to profit from the current environment suggests that it may be essentially a niche speculative product rather than a hedge against inflation, corruption, currency devaluation or sanctions. If it is indeed a speculative tool, the reason for its underperformance is that speculators are simply trading products that are more liquid and easier to execute. In other words, traders aren't flocking to cryptocurrencies because it's easier to trade other products with better potential where institutional investors can trade large enough to "move the needle." Despite the media attention Bitcoin and its cryptocurrencies receive, the numbers are still relatively limited and a fraction of the more mature markets. Consider the following volume data for April 13, 2022:
product
volume
E-mini S&P 500*
1,255,845
10-Year Treasury Note*
1,835,697
Crude Oil (WTI)*
863,496
JPY*
132,883
gold*
147,601
Bitcoin + Bitcoin Mini Futures*
20,030
Bitcoin, Cash**
25,114
Source: CME Group and data.bitcoinity.org
Even taking into account the fact that crypto trading includes more than just CME bitcoin futures and their cash equivalents, trading volumes remain relatively low. Needless to say, major block speculators will not be lured by Bitcoin's low trading volume figures.
All of this raises questions about the long-term future of cryptocurrencies as a viable, tradable asset class. If it is not an effective hedging tool and cannot attract institutional investors due to its relatively limited volume, then the cryptocurrency will never reach its potential.
Originally published on MoneyShow.com
Editor's Note: The summary bullets for this article were chosen by Seeking Alpha editors.