The Silver Mining Index (SIL) first-quarter earnings season begins next month, and one of the first companies to release preliminary first-quarter results is First Majestic Silver (NYSE: AG).The company delivered strong year-over-year growth, driven by Newly acquired Jerit Canyon [JC] mine. However, compared to the fourth quarter of 2021, consolidated production did decline significantly. The good news is that over time, production will improve and consolidated gold production will grow significantly. However, with First Majestic trading at over 3.0x P/NAV, I still don't think there's any margin of safety to justify a new position at $12.60.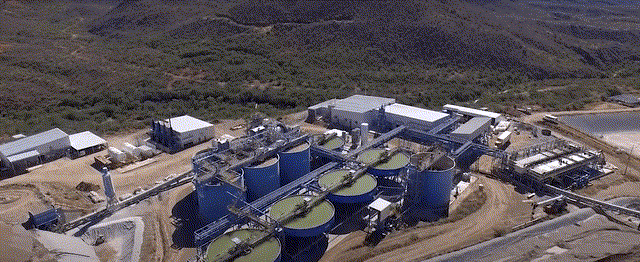 First Majestic Silver released preliminary first-quarter results last week, reporting quarterly production of approximately 7.22 million silver-equivalent ounces [SEOs], consisting of approximately 58,900 ounces of gold and approximately 2.61 million ounces of silver. This is a huge improvement compared to the roughly 4.54 million SEOs generated during the same period last year. Much of this growth stemmed from the acquisition of a new approximately 120,000-ounce-a-year gold asset, the Gerrit Canyon mine in Nevada. Let's take a closer look at the quarter below:
Production
Looking at the chart below, we can see that SEO production increased significantly year-over-year, but did drop significantly from Q4 2021 levels, slipping more than 14% to ~7.22 million SEOs (Q4 2021: ~856 10,000 SEOs). The decline in production was related to lower throughput at its Mexico operations, which was impacted by higher absenteeism at the beginning of the first quarter due to COVID-19. Fortunately, this did not result in a significant drop in Santa Elena's production, thanks to a higher proportion of milled feed from the high-grade Ermitano mine being produced nearby. However, it did slash production at two other Mexican operations.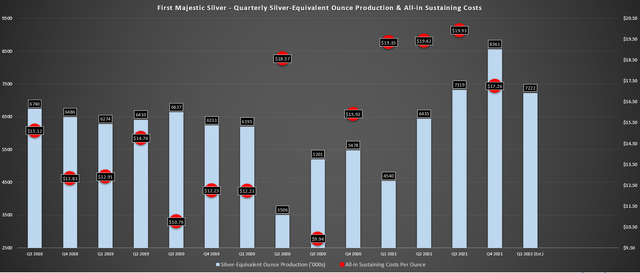 Looking at the quarterly operations below, we can see that production in San Dimas declined 24% sequentially to approximately 3.08 million SEOs, related to lower throughput and grades. During the first quarter, San Dimas processed 5% of tonnage at much lower grades, averaging 282 grams per tonne silver and 3.09 grams per tonne gold. This compares unfavorably with grades of 347 grams per tonne gold and 3.09 grams per tonne silver in the fourth quarter of 2021. At La Encantada, meanwhile, we saw a similar situation, with throughput down more than 6% and grades down almost 10%, increasing from 117 grams per tonne silver to 108 grams per tonne silver by the first quarter of 2022 .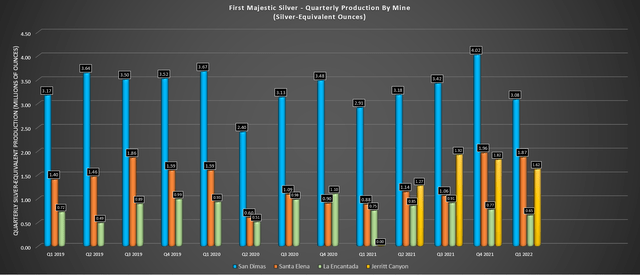 Fortunately, while the two businesses dragged down combined production, Santa Elena had a strong quarter and Ermitano started to make a big difference. This is evidenced by an increase in asset production from approximately 453,500 ounces of silver and approximately 6,300 ounces of gold in the first quarter of 2021 to approximately 337,200 ounces of silver and approximately 19,600 ounces of gold in the first quarter of 2022. Despite the year-on-year decline in throughput, gold production increased significantly due to Ermitano's much higher gold grade, accounting for 43% of throughput, and of the approximately 201,900 tonnes processed, approximately 114,200 tonnes came from Ermitano.
In its prepared remarks, First Majestic noted that it has begun construction of an LNG power plant expansion and transmission line in Santa Elena to provide low-cost clean electricity to the Ermitano mine. This will also support the power requirements of dual-circuit units for finger grinding to improve recovery rates. Based on estimated FY 2022 production, the asset should generate over 6.6 million SEOs at an average cost of just over $16.00/oz, which would be better than about 5.04 million SEOs in FY 21 with an average cost of $19.20/silver-equivalent ounce last year.
Jerit Canyon Mine
The move to Nevada as First Majestic's second growth pillar has had a slow start to the year, with the company noting that it was affected by bad weather in January that reduced tonnage processed. As the chart below shows, Jerritt Canyon had a relatively weak quarter in the first quarter, contributing only about 20,700 ounces, or about 16.9% of the midpoint of annual production guidance. The weak production was due to a significant reduction in tonnage processed at low grades, with only about 230,000 tonnes processed at an average grade of 3.30 grams per tonne of gold. This compares unfavorably to the approximately 256,400 tonnes of gold (3.41 grams per tonne gold) processed in the fourth quarter of 2021.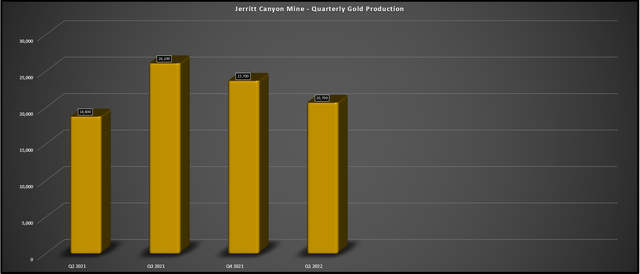 While the slow start to the year has been disappointing, the rest of the year should be much better. That's because the company has come through the winter, it's working to expand its West Generation underground mine, which should start providing mill feed in the third quarter, and it's successfully connecting its SSX and Smith Mines. Finally, it is also seeking to restore the Saval II underground mine to provide another source for future grinding. Between more efficient exploration and drift exploration between the two mines, less surface transportation after connecting the SSX and Smith, and the ability to take advantage of excess plant capacity, I'm cautiously optimistic about this asset.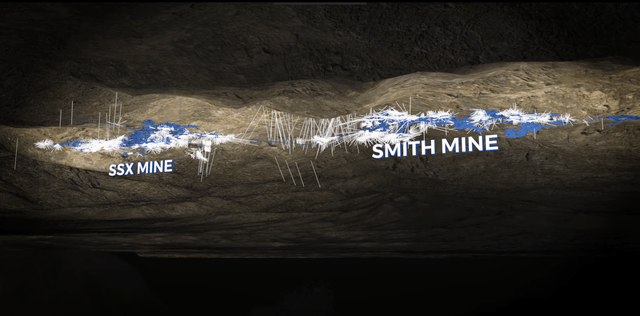 To date, there's no question that Jerritt Canyon's high operating costs and relatively low production volumes may make it difficult to justify an acquisition. However, as the plant has a capacity of around 1.45 million tonnes and slightly more than around 900,000 tonnes (63%) of capacity currently in use, there is an opportunity to significantly increase production at little additional cost. After increasing the denominator and optimizing the asset, this should help reduce Jerit Canyon costs significantly, from last year's full sustain cost of $2,048/oz and this year's $1,500/oz above.
It's also important to note that fiscal 2021 is an investment year for tailings expansion and roaster upgrades, making costs artificially high for the period. However, since the denominator (production profile) is higher, and assuming First Majestic successfully fills the plant, we could see production increase to over 185,000 ounces by 2024, assuming no inflationary pressures, for a total sustaining cost of nearly $1,400/ oz don't get worse industry-wide. While this still represents an above-average cost relative to an estimated industry AISC of $1,200/oz (2023), the asset will still yield meaningful value if gold prices can continue to sustain above $1,850/oz operating cash flow.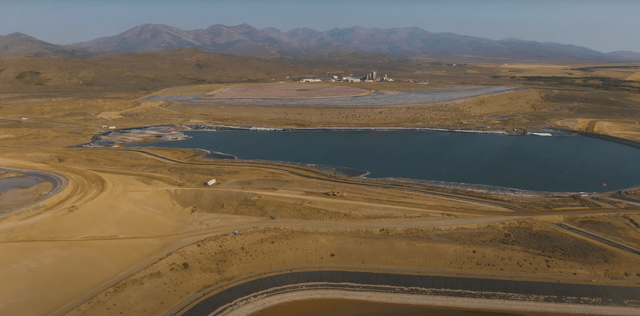 grow
Despite the disappointing Q1 production figures and First Majestic's AISC margin likely to be below $4.50/oz in Q1, costs and volumes will improve over time. This is based on increased contributions from Ermitano, the return to more normal operations in Mexico (with reduced COVID-19 absenteeism), and higher processing rates at Jerritt Canyon as the West Generation underground network comes online.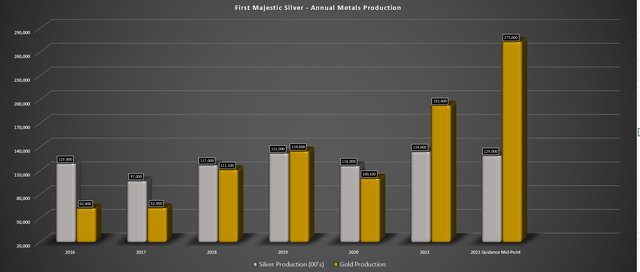 If First Majestic can reach the midpoint of its guidance of about 273,000 ounces, as shown, this is expected to boost gold production by more than 40% year-over-year. This will offset the low single-digit decline in annual silver production. Assuming the optimization of Jerritt Canyon is successful, it should help maintain gold production above 270,000 ounces for the foreseeable future. However, the key will be to continue extending the mine life of First Majestic's San Dimas mine and its shorter mine life at La Encantada, otherwise higher gold production will be partially offset by lower silver production.
For now, based on reserves and assumed annual production of around 950,000 tonnes, the mine life at San Dimas is less than five years. At the same time, La Encantada has a rather short mine life of only two years based on reserves. I believe First Majestic can extend the mine life of these two assets to 2026 and 2023 respectively, but the key will be the ability to add new reserves at similar grades. However, if the grades cannot be maintained, we may see slightly lower yields and higher costs.
Valuation and technical picture
Based on approximately 266 million fully diluted shares and a share price of $12.60, First Majestic has a market capitalization of approximately $3.35 billion. This figure dwarfs my estimate of the company's combined project after-tax NPV (5%) of about $1 billion. Notably, this does not include any potential impact of a tax dispute with the Mexican government tax service Servicio de Administracion Tributaria. As such, even without factoring in any potential downside from this dispute, the stock still trades at over 3.0x P/NAV. That's a hefty price to pay for any precious metal name, even if it benefits from higher leverage due to its exposure to silver.
In fact, if we compare this valuation with more diversified and higher margin companies like Barrick Gold (GOLD) and Agnico Eagle (AEM) or higher margin silver companies like Hecla (HL) , First Majestic trades at more than twice the average P/NAV for multiple of these peers. That doesn't mean the stock can't go higher, and this NAV probably undervalues ​​Jerritt Canyon because I don't assign much value until we start seeing the fruits of the optimization work. For now, however, First Majestic ranks high in growth but low in value due to the relatively short reserve lives of its two assets.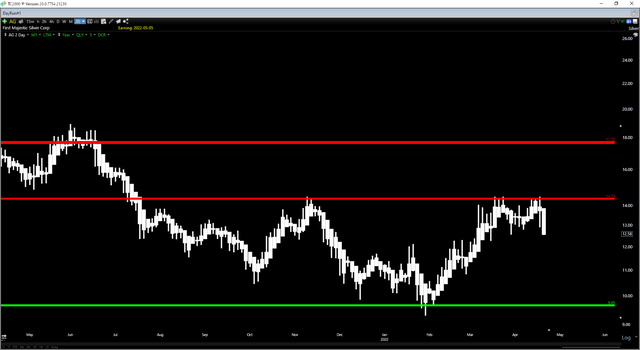 Turning to the technical chart above, which confirms that we have yet to hit low-risk buy territory, First Majestic is in the upper part of its trading range, even after the recent pullback. This is based on the fact that the stock has $1.75 of potential upside at its newly confirmed resistance level of $14.20 to $14.35. Meanwhile, the stock has potential downside around $2.95 compared to its support at $9.65. The result is a current reward/risk ratio of 0.59 to 1.0, well below my buying criteria.
In general, when it comes to midcap producers with average or below average jurisdictions, I prefer a minimum return/risk of 4.5 to 1.0 to justify entering a new position. Therefore, for First Majestic to drop into potential buy territory, the stock needs to break below $10.35. At these levels, I still wouldn't see a conservative backdrop from a valuation standpoint, as I see the stock at a conservative fair value below $9.00. However, from a swing trading perspective, I think this is a good entry.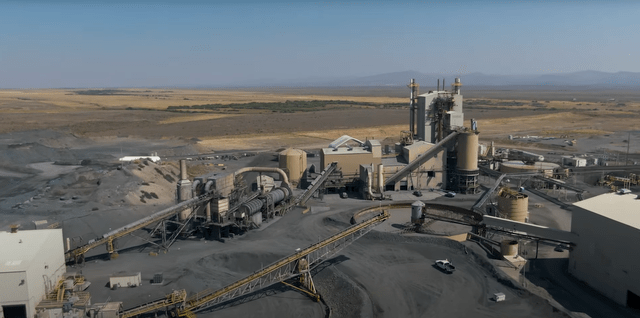 First Majestic Silver is off to a slow start to the new year, but as guidance indicates, the company will deliver meaningful production growth in 2022. So while it's easy to be concerned about the Q1 results, I think it's best to look at the big picture, which is higher production and solid exploration upside in the Ermitano/Jerritt Canyon. Having said all that, I think First Majestic Silver's conservative fair value is under $9.00, making it difficult to justify owning the stock from an investment standpoint. So for me to be interested in this stock, I would need to see it break below $10.35 a share, which would put it into buy territory from a swing trading perspective.