Be fearful when others are greedy. Be greedy when others are fearful. – Warren Buffett
Author's Note: This is an abbreviated version of an article originally published in advance on Jan. 18, inside Integrated BioSci Investing for us members.
In biotech investing, it's a beauty of nature to see your early investment bear fruit. That is to say, the approval and successful launch of a product (be it therapeutics or diagnostics) brings you profits while delivering hope to patients. Guardant Health (NASDAQ:GH) epitomizes the aforesaid phenomenon due to the power of its precision-medicine-powered blood diagnostic. The company is leading a revolutionary shift from a traditional tissue biopsy to a simple blood draw (ie, liquid biopsy). Precisely speaking, a liquid biopsy is much more convenient for patients which would allow doctors to catch cancer earlier.
If you recall, the Black Panther (Chadwick Boseman) died from colon cancer. And, I believe that had his colon cancer been detected earlier, he would still be here. In recent months, Guardant posted positive results of its ECLIPSE study that can be a game changer for patients at risk of colon cancer. In this research, I'll feature a fundamental analysis of Guardant and share my expectation of this intriguing growth equity.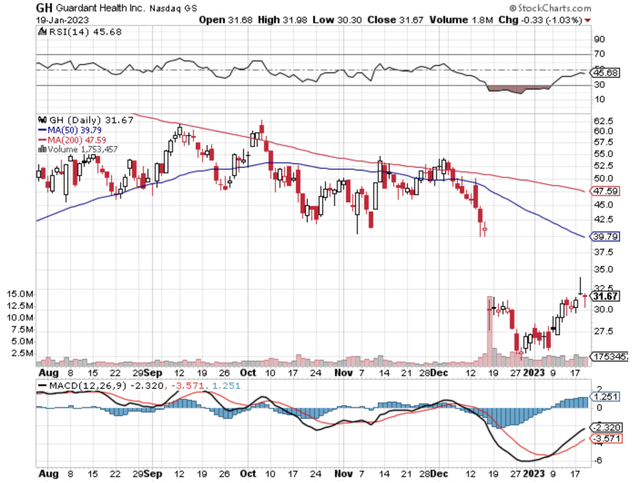 Figure 1: Guardant Health chart
About The Company
As usual, I'll deliver a brief corporate overview for new investors. If you are familiar with the firm, I suggest that you skip to the subsequent section. Based in Redwood City, California, Guardant Health dedicates its efforts to the innovation and commercialization of novel medical diagnostics. In unlocking the power of precision medicine, the company offers genetic profiling to enhance the treatment outcomes for various cancers.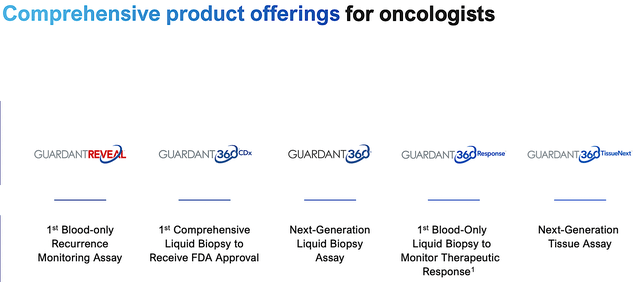 Figure 2: Diagnostic pipeline
I noted in the previous article,
Through its Guardant Health Oncology platform, the company successfully launched various liquid biopsy tests like Guardant360 to catch all stages of cancers. Being a company that follows through, Guardant has successfully executed different milestones to enhance shareholder's value while delivering hope to countless patients over the years.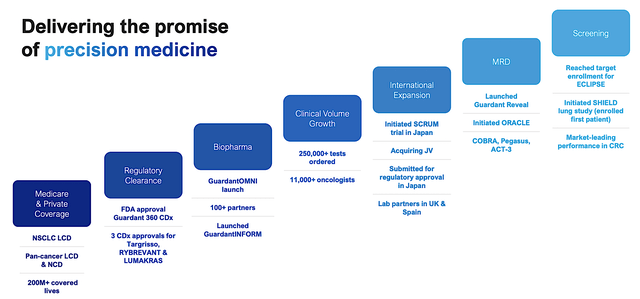 Figure 3: Business milestones
ECLIPSE For Colorectal Cancer Screening
On December 15, Guardant announced highly intriguing results of its prospective study dubbed ECLIPSE (ie, Evaluation of ctDNA LUNAR Assay In an Average Patient Screening Episode) for colorectal cancer (ie, CRC) detection.
In capturing lighting in a bottle (through a liquid biopsy), Guardant Shield can detect the presence of cell-free (ie, cfDNA) or CRC in the blood as well as cfDNA plus proteins biomarkers. From the figure below, you can appreciate that ECLIPSE enrolled a large number of patients, ie, 20K people. And, that substantial number of patients could be an important consideration for the FDA.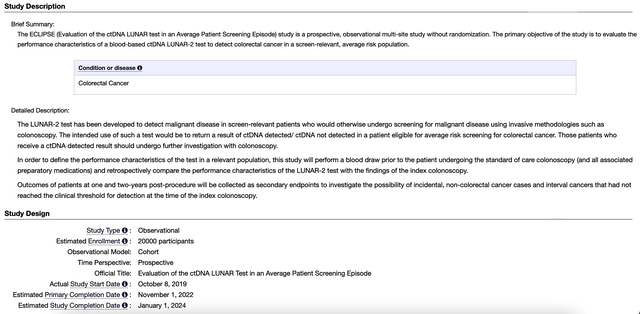 Figure 4: ECLIPSE design
In the aforementioned study, Guardant Shield demonstrated the ability to pick up 83% of CRC cases. That is to say, its sensitivity is 83%. In terms of specificity (ie, how accurate the test is), that registered at 90%. In other words, the specificity is 90%.
Generally speaking, Shield's sensitivity is not bad yet it's not that great. For a diagnostic test to be widely prescribed, you want its sensitivity to be over 90%. Nevertheless, above 80% is considered substantial and significant for CRC.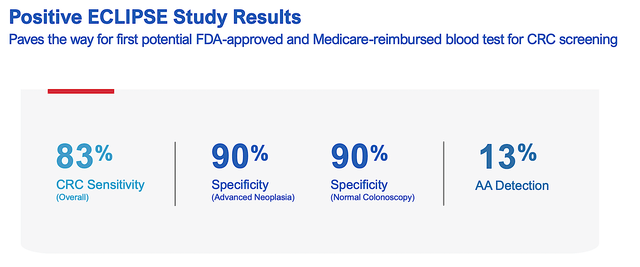 Figure 5: ECLIPSE results
Shield's Competitive Edge: Improved Compliance
Interestingly, Guardant Shield's strongest competitive edge against the traditional colonoscopy and the fecal occult blood test (ie, FIT/FOBT) and other stool tests (ie, Cologuard) is improved compliance. You can imagine that most patients are unlikely to get either a stool best or a scope going up their rear end.
In my view, it is quite cumbersome and uncomfortable. Precisely speaking, the adherence rate for Guardant Shield vs Cologguard is as different as night and day (ie, 90% vs. 65% compliance). Excited to see the development, the Gastroenterologist at MGH and Professor at Harvard Medical School (Dr. Daniel Chung) enthused,
Colorectal cancer is curable if detected early, but rates of adherence to screening remain too low with current screening options. There is a significant unmet need for a convenient, highly accurate screening test to improve these rates. The topline results from ECLIPSE are very encouraging and support the use of a blood-based test as a screening option that has the potential to dramatically improve colorectal cancer screening rates by overcoming barriers associated with current testing methods.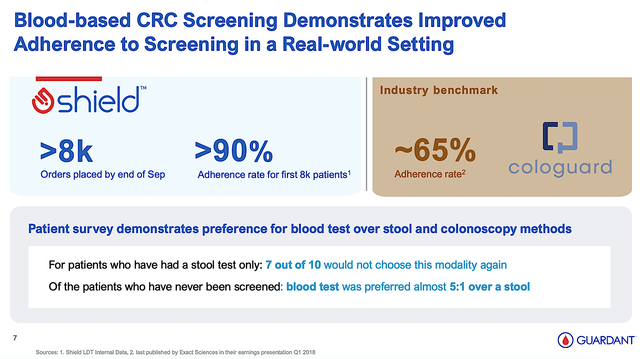 Figure 6: ECLIPSE improved compliance
Estimated Market
Viewing the figure below, you can see that Guardant Shield has the potential to capture 16M tests annually which is nearly equivalent to all competing tests combined. That is to say, there are 6.7M, 2.8M, and 5.2M tests for FIT/FOBT, Cologuard, and colonoscopy, respectively.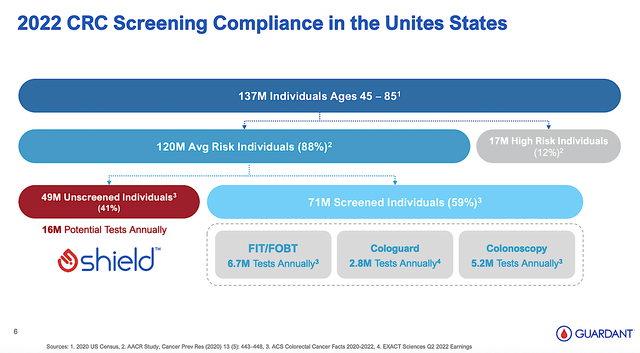 Figure 7: Shield market opportunity
Translating the data into a potential market, Guardant Shield can procure over $5B in opportunity. Keep in mind, these are only estimated figures. The more challenging part is whether Shield would gain FDA approval.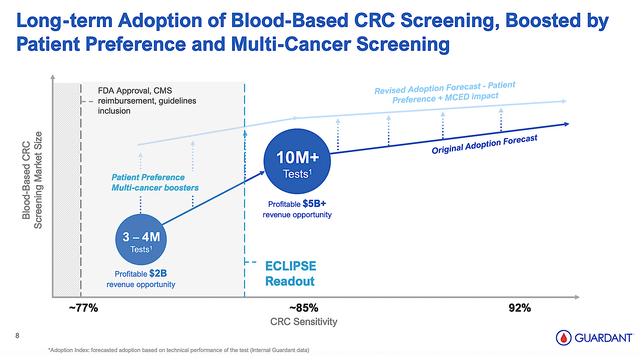 Figure 8: Projected revenue capture
Potential Approval
Given that ECLIPSE is a prospective/observational/registration study, whether it would be adequate for the FDA to grant approval remains. After all, an observational study like ECLIPSE that was not blinded can lead to biased results. Over the years, I noticed that the best study for approval is the Gold standard (ie, a randomized clinical trial that is double-blinded).
Nevertheless, the fact that Guardant has been successful in advancing other tests bodes well for the CRC franchise. Moreover, there is no other liquid biopsy option that would grant a huge advantage in compliance like the Shield. If approved, Shield would be the first FDA-approved and Medicare-reimbursed blood test screening for CRC. According to Mr. Talasaz,
Over 49M eligible people in the US remain unscreened for colorectal cancer. We are confident that a high-sensitivity blood test can play a critical role in improving screening adherence rates by offering an accurate and convenient blood test to those reluctant to get screened. These results demonstrate, for the first time, that a blood test can indeed achieve high-sensitivity detection for colorectal cancer, a disease that was thought to be difficult to detect in blood. And as groundbreaking as these results are, colorectal cancer is just the beginning. Fueled by this success, we will expand this test to detect many other cancer types, including lung cancer, the leading cause of death from cancer.
Figure 9: Upcoming catalysts
Financial Assessment
Just as you would get an annual physical for your well-being, it is important to check the financial health of your stock. For instance, your health is affected by "blood flow" as your stock's viability is dependent on the "cash flow." With that in mind, I'll assess the 3Q2022 earnings report for the period that ended on September 31.
As follows, Guardant procured $117.4M compared to $94.7M for the same period a year prior. On a year-over-year (YOY) basis, the revenues grew by 23.9%. That aside, the research and development (R&D) spending for the respective periods registered at $100.0M and $70.9M. I viewed the 41.0% R&D increase positively because the money invested today can turn into blockbuster profits. After all, you have to plant a tree to enjoy its fruit.
Additionally, there were $161.9M ($1.58 per share) net losses compared to $107.5M ($1.06 per share) net declines for the same comparison. As you know, the higher R&D investment cuts into the bottom line earnings. Over time, if Guardant grows, the company would leverage the economy of scale to bank a net profit.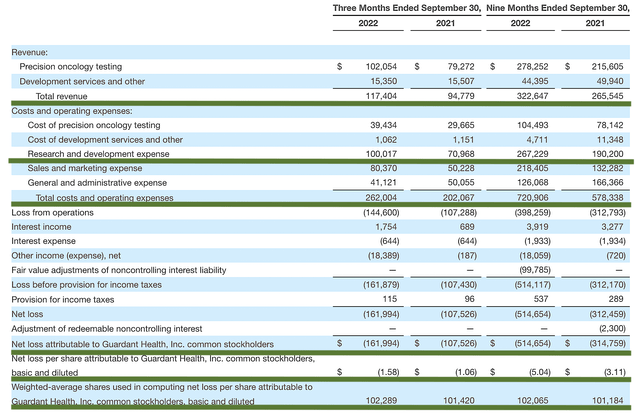 Figure 10: Key financial metrics
Regarding the balance sheet, Guardant had $1.1B in cash, equivalents, and investments. On top of the $117.4M revenue and against the $262.0M total OpEx, there should be adequate capital to fund operations into 4Q2024. In other words, there are roughly nine more quarters of cash runway. Simply put, the cash position is robust relative to the burn rate.
While on the balance sheet, you should check to see if Guardant is a "serial diluter." After all, a company that is serially diluted will render your investment essentially worthless. Given that the shares outstanding increased from 101.4M to 102.2M, my math revealed a 0.07% annual dilution. At this rate, Guardant easily cleared my 30% cut-off for a profitable investment.
Q4 Earnings Previews
On January 09, Guardant gave us a glimpse of what to expect in its Q4 and Fiscal 2023 earnings report. Here, revenue for the quarter is projected to tally between $447M and $450M which is a 20% YOY increase. Interestingly, both clinical customers and test volumes are also anticipated to grow by 42% and 40%, respectively. Commenting on the development, the Co-CEO/Founder (Amir Ali Talasaz) noted,
During Q4 we delivered on a long-term ambition with the positive readout of our ECLIPSE trial. We are thrilled with the strong and positive feedback expressed by guideline members, key opinion leaders, and patient advocacy leaders about the performance of the Shield test in the ECLIPSE trial. Fueled by this success, we will expand this test to many other cancer types, including lung cancer, the leading cause of death from cancer.

Figure 11: Q4 earnings preview
Potential Risks
Since investment research is an imperfect science, there are always risks associated with your stock regardless of its fundamental strengths. More importantly, the risks are "growth-cycle dependent." At this point in its life cycle, the main concern for Guardant is whether the company can gain FDA approval for Guardant Shield for CRC in early 2024. Additionally, the other important risk is whether Guardant can cut costs while continuing to ramp up revenues.
Conclusion
Guardant Health is a story of biotech investment success. Founded by an esteemed scientist and leveraging precision medicine, Guardant has now grown into a $3.2B company. Its liquid biopsy tests are now becoming increasingly utilized. The upcoming approval of Guardant Shield (a convenient blood test) to detect the cumbersome and deadly colon cancer can be a game changer for both patients and Guardant shareholders. The future is seemingly bright for Guardant. The path ahead holds great value.