Preliminary data released by the University of Michigan on Friday (11th) showed that the consumer confidence index climbed to 66.4 in February, a record high in more than a year, mainly driven by consumers' optimism about the current situation, which overshadowed lingering economic prospects. to worry about. Short-term inflation expectations rose to 4.2% from 3.9% in the previous month, while longer-term inflation expectations held steady at 2.9%.
The initial value of the U.S. Consumer Confidence Index in February was 66.4, higher than the market's expected 65 and the previous value of 64.9 in January. In terms of other index details, the initial value of the current situation index in February reported 72.6, a new high since December 2021, far higher than the market's expected 68 and the previous value of 68.4 in January; the initial value of the February expectation index reported 62.3, which was lower than the market's expected 63, also lower than the value of 62.7 before January.
It is worth noting that the strength of the current conditions index in February was related to the rebound in US stocks. Rising stock prices contribute to a more optimistic mood among those with large stock holdings about their personal financial performance.
In terms of high-profile inflation expectations, the initial value of the 1-year inflation expectation unexpectedly climbed to 4.2%, higher than the 4% expected by the market, and the value before January was 3.9%; the initial value of the 5-year inflation expectation was reported at 2.9%, in line with Market expectations were 2.9% lower than the previous value in January. Consumers continue to express considerable uncertainty about long- and short-term inflation expectations, suggesting that any dip in inflation expectations is likely to be temporary.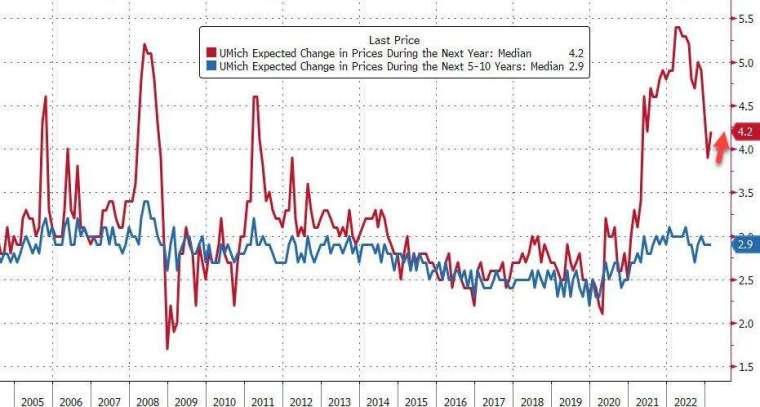 Although short-term inflation expectations have picked up, they are still at a low level compared with the first half of last year, and are still lower than the 4.4% surveyed in December last year. In addition, long-term inflation expectations are stable. These are in line with other recent trends in inflation data showing that U.S. inflation has peaked and is on a cooling path. The Federal Reserve (Fed) pays close attention to long-term inflation expectations because they can be self-fulfilling and keep inflation high.
Joanne Hsu, director of the University of Michigan Consumer Confidence Survey, said that despite the recent slowdown in inflation, high prices continue to put pressure on consumers, and consumer confidence is still more than 22% below the historical average since 1978. Moreover, coupled with concerns about an impending rise in unemployment, consumers are poised to be more cautious in their spending in the coming months.
The US will release the high-profile Consumer Price Index (CPI) report for January next week. The market predicts that the CPI will grow at the fastest pace in three months.