1. Overview and statistics of the top 10 medical materials exports in Taiwan 2. Introduction to the three categories of contact lenses; a list of eyeball concept stocks
1. Overview and statistics of Taiwan's top ten medical materials exports
Taiwan's overall medical materials industry in 2021 will grow by 24.8% compared to 2020. Taiwan's medical material manufacturers are mostly export-oriented, and the top ten export items are Taiwan's superior products. Even though Taiwan's superior products have been slightly different in the past 20 years, whether it is its own brand or OEM, it is linked with global demand.
Due to the advantages of excellent quality control and high cost performance, the Taiwanese factory has become a good partner of many international manufacturers. Over the years, the Taiwanese factory has also gradually cultivated its own brand, which will be conducive to the growth of the overall medical material industry.
It can be clearly seen from the chart above that contact lenses are Taiwan's largest export item, accounting for 18.4% of exports in 2021, an increase of 16.2% compared to 2020, and the decline in 2020 is mainly due to the impact of the COVID-19 epidemic. Countries are promoting policies such as closing cities and restricting people from going out, and advocating less wearing of contact lenses, which in turn affects the decline in people's demand for contact lenses.
The second-ranked export is "other plastic laboratory, sanitary and medical articles". These articles are mainly disposable consumables used to avoid infection due to the epidemic. The sharp increase in usage in various countries will drive Taiwan's 2021 exports An increase of 5.2% over 2020.
However, due to the large amount of use of such medical materials, low technical threshold, and fierce price competition, how to maintain profit and export competitiveness in the future after the epidemic slows down is a major challenge.
Exports ranked No. 3 and No. 10 for "Parts and Accessories of Other Section 9018 Goods" and "Other Section 9018 Goods". These two items accounted for about 12.3% of the export value. Including medical, surgical, dental or veterinary instruments and other instruments, as mentioned earlier, because the customs code contains a variety of items, there is no independent classification.
Blood glucose meters, which are ranked No. 4 in terms of exports, and ranked No. 7 in "blood sugar test strips," accounted for 7.9% and 3.8% of exports in 2021, showing a slight growth, mainly due to the impact of the epidemic on transportation, which affected product sales, but Blood glucose monitoring products are quite mature, and are currently caught in a price war. Therefore, in recent years, international manufacturers have mostly developed in the direction of digital medical care. After the epidemic situation stabilizes, driven by the expected continued growth of the diabetic population, relevant domestic manufacturers will have the opportunity to seize market opportunities if they actively adjust their strategies.
Ranked 5th is "Other diagnostic or experimental substrate reagents and preparation reagents", mainly including non-hepatitis and non-blood sugar test reagents, accounting for 7.2% of the export ratio in 2021. The substantial growth in export value is also due to the rapid demand for testing products driven by the epidemic rising. In vitro diagnostic manufacturers thus ushered in a wave of profit opportunities. However, with the rapid growth of global demand for in vitro diagnostic products in the future, domestic manufacturers still have opportunities to expand exports.
Ranked 6th is "Other Catheters, Catheters, and Similar Products". This type of product has grown steadily over the years. Previously, thanks to the epidemic, countries have greatly increased their usage and boosted export value. Currently, Taiwanese manufacturers are mainly focusing on the development and application of new materials, and Strengthen clinical application, increase competitive advantage, and drive added value and export competitiveness.
Ranked 8th and 9th are "Motor Vehicles for the Disabled" and "Parts and Accessories of Vehicles for the Disabled".
The 2 items accounted for 3.7% and 3.4% of the total exports respectively. Because such products require professional evaluation before they can obtain insurance subsidies for purchase, the impact of the epidemic previously reduced the number of people going out for diagnosis and evaluation, which led to a decline in sales. However, with the aging trend , there is still room for growth in the future.
2. Introduction to the 3 major categories of contact lenses; a list of eyeball concept stocks
From the overview of Taiwan's exports, we can know that the most important export group is contact lenses, accounting for more than 20% of the total exports. As the epidemic slows down and the vaccination rate increases, the demand for contact lenses will grow in 2021. .
Taiwan's main exporting countries are Japan and the United States. The two countries will also be affected by the epidemic in 2021. The closure of the city, the control of consumer activities, and the obstruction of logistics are all factors affecting sales.
However, Taiwanese contact lenses have good technology and quality, and continue to expand production and launch new products. In the post-epidemic era, they will have the opportunity to maintain growth momentum.
The only worry is that the price competition of contact lenses is fierce, which will affect the revenue and profit. Therefore, Taiwan manufacturers are more focused on the development of high-end products, such as presbyopic contact lenses or other high oxygen permeability contact lenses, etc., and use differentiation to maintain uniqueness and gross margin.
There are three main types of contact lenses: hard, soft, and disposable.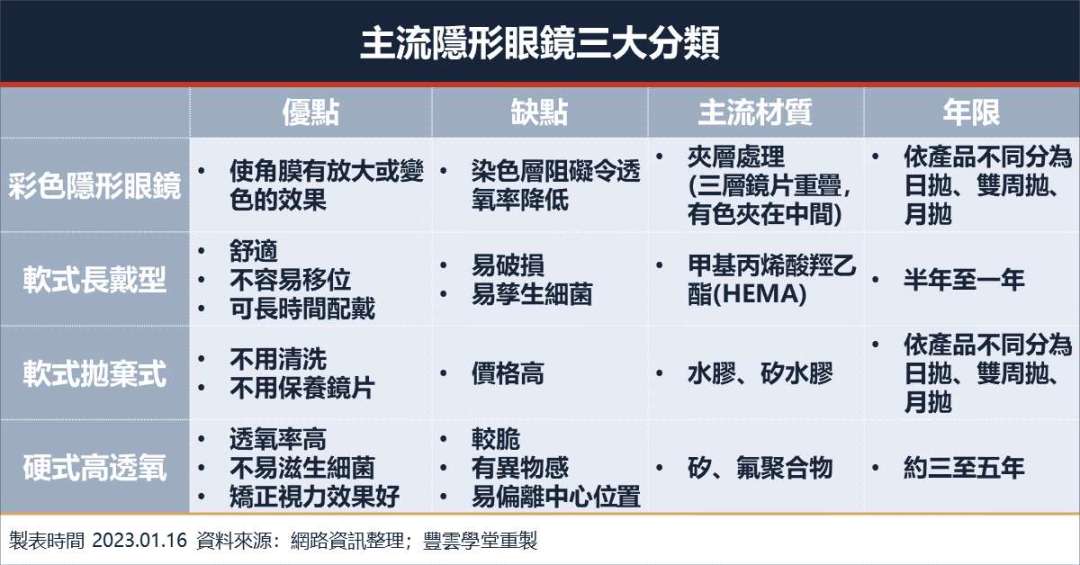 Since contact lenses are one of the ophthalmic medical products, they also have high requirements for safety and specifications. This also means that the industry has a high barrier to entry. As far as the entire invisible industry is concerned, it tends to be an oligopolistic market.
Alcon, Johnson & Johnson, Cooper, and Bausch & Lomb alone account for more than 90% of the market share, while Europe, Japan, and North America are the main markets.
Taiwan's contact lenses are mainly export-oriented, with a direct export ratio of more than 75%, including companies such as Jingjing, Shiyang, and Mingji. Even though Taiwan's market share is not as large as expected, it has advantages in OEM and brand sales. . For example, most brands in China do not have the ability to produce independently, and Jin Ke, which has been privatized and delisted from the market, has maintained its leading position in the OEM industry in the past based on market reputation, accounting for more than 25% of the Chinese market, and the current high myopia population in China , the penetration rate of contact lenses is still relatively low. Compared with Chinese manufacturers, Taiwanese manufacturers have advantages such as brand awareness and large production scale, so they have certain competitiveness in the Chinese market. The following table shows the list of eyeball concept stocks and their operating conditions last year.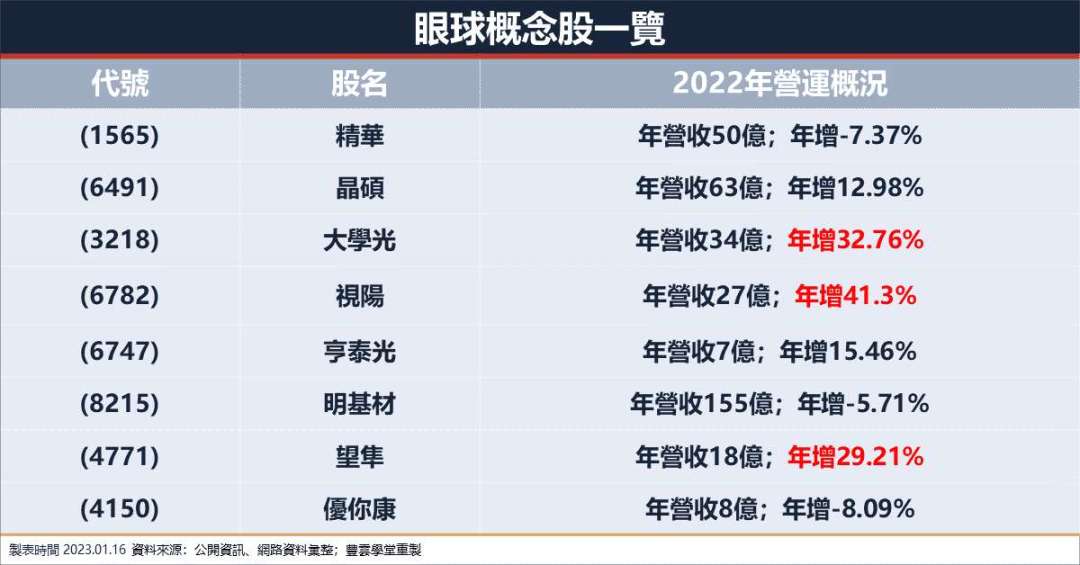 In the case of the recovery of the epidemic, the previously impacted demand is bound to gradually recover, which will benefit the development of the entire invisible eye industry.
If the market has no obvious confidence in technology stocks this year, medical material-related stocks have the opportunity to become the focus of the market.
As for those important manufacturers in Taiwan, what are their trends? Come and share with you next time! (For more industry overview and stock market topics, go to Extended Reading: Hot Topics in the Stock Market)
Extended recommended reading for US stock investment: 1. What is XLP ETF? 2. What do you think of US stock chips? What do Berkshire Hathaway, BlackRock, Goldman Sachs, and Fisher-Price buy? 3. The first lesson of US stock investment – how to open a US stock account? 4. 2022 General Manager Review & Stock Deposit Performance Backtest Introduction (Community login and test immediately)
The individual securities recommended and analyzed by the company have no improper financial interests. Past performance does not guarantee future profits. Investors should make independent judgments, carefully evaluate and take investment risks at their own risk.