generalize
Johnson & Johnson (NYSE: JNJ) was the first significant biopharmaceutical company to report results for the quarter. On Tuesday, the company reported positive results for its second quarter.The company beat analyst expectations on both counts revenue and sales. However, a stronger dollar hurt results and led J&J to cut its guidance through 2022.
number
In the second quarter, Johnson & Johnson achieved global sales of $24.020 billion, of which U.S. sales were $12.197 and global sales were $11.823, an increase of 3% from the second quarter of 2021. Currency impact is negative 5%. Earnings per share were $1.80, down 23.4% from the prior year, and adjusted earnings per share were $2.59, up 4.4%.
The effective tax rate was 17.6%, compared with 5.8% a year earlier. This different result is mainly due to a one-time tax benefit in 2021 for the internal restructuring of some international subsidiaries. In addition, J&J continued to invest heavily in research and development, with investments representing 15.4% of revenue during the quarter. Investments totaled $3.7 billion, up 9.1% from the previous year, primarily due to portfolio advancements in the pharmaceutical and medical industries.
consumer health
Global consumer health sales totaled $3.8 billion. It was down 1.3%, with a 3.6% decline in the U.S. and a 0.6% increase outside the U.S.
According to the CEO's remarks on the earnings call, the performance was driven primarily by strategic price increases, growth in over-the-counter products outside the U.S. due to a solid cold, cough and flu season, and a recovery in the digestive health category. However, the consumer health business was negatively impacted by regional COVID-19 movement restrictions, which primarily impacted the skin health/beauty franchise. Margins for consumer health products fell from 28.6% to 25.9% due to higher raw material costs.
Pharmaceutical
In the pharmaceutical sector, global sales were $13.3 billion, an increase of 6.7%, of which the United States increased by 4.2% and outside the United States by 9.8%. Excluding sales of COVID-19 vaccines, global operating income rose 8.6%. Analysts were stunned by the company's Covid-19 vaccine results, which nearly doubled expectations. Sales were $544 million versus expectations of $278 million.
According to the earnings call, the growth was attributed to the strength of DARZALEX, STELARA, ERLEADA and TREMFYA. Specifically, Darzalex sales beat analysts' expectations by $168 million, up 46.1%, while ERLEADA's operating sales rose 56.9%. STELARA's 18.6% growth was driven by strong market growth and notable gains in Crohn's disease and ulcerative colitis market share. In contrast, Imbruvica and pulmonary hypertension treatments fell short of expectations ($130 million and $74 million, respectively). In addition, IMBRUVICA's global operating sales declined by 7.2% due to increased competition, especially in the United States. The pharmaceutical segment's profit margin rose to 42% from 39.4% due to favorable product mix and lower marketing expenses.
medical technology
Regarding the MedTech business (former Medical Devices segment), global sales were $6.9 billion. It was down 1.1%, with a 1.6% increase in the U.S. and a 3.6% decrease outside the U.S. As in the previous quarter, the covid-19 outbreak severely affected the ability to intervene. The medical technology segment's profit margin fell from 28.6% to 26.5% due to inflation, higher investments to support new product launches, and higher R&D spending.

guide
Through April 2022, the company expects sales to grow between 3.8% and 4.8%. The company now expects sales to rise 2.1% to 3.1% as a stronger dollar, macroeconomic difficulties during this period and the Covid-19 pandemic hurt the company's healthcare segment. The revision also impacted the company's adjusted earnings, which are expected to rise 3.6% to 5.6% in April, compared with 2.1% to 3.1% now.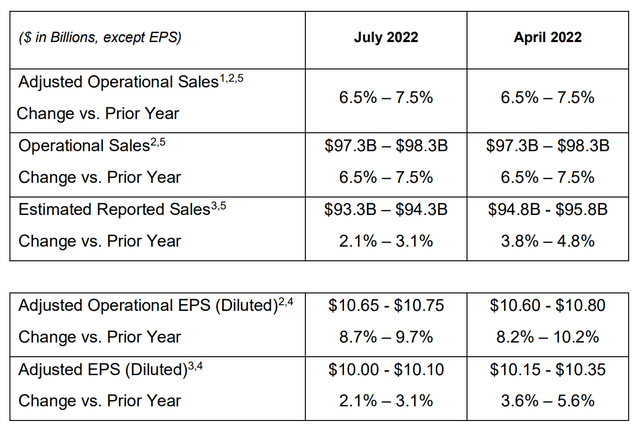 what happens next
Markets were cautious about JNJ's quarterly earnings report, down 1.46% on the day of the results. Inflation and covid-19 lockdowns imposed in some parts of the world, especially China, have hurt the company, but can they continue? A partial lockdown of the former, more aggressive variant will be in place as long as China continues to pursue a zero covid-19 policy. In addition, more serious concerns are related to rising commodity prices that have affected JNJ. Of course, the company wouldn't have a problem raising prices, but if inflation gets out of hand, even a giant like J&J will find it hard to keep up. In addition, increased wage cost pressures have prevented companies from hiring the employees they need to grow.
In addition to these two major issues, the dollar strengthened against other currencies, which negatively affected most of the company's sales overseas. Such a sharp reduction in guidance reflects only these three issues, and solutions are unlikely to be found in 2022. Currently, JNJ's valuation appears to be in line with expectations for modest growth, and its multiple doesn't seem to deviate significantly from historical data. However, the company isn't undervalued either. Despite market volatility, the 2.5% dividend yield and relatively stable price may appeal to some investors.