Important highlights of US stocks:
The US will release August non-farm payrolls data today. U.S. 10-year Treasury yields came to 3.252 percent. U.S. stock futures fell on Friday (2nd), with Dow Jones futures down 0.03%, S&P 500 futures down 0.04% and Nasdaq 100 futures down 0.16%.
The forthcoming August nonfarm payrolls report, if still solid, may add to the Fed's confidence in aggressive rate hikes. Economists expect 318,000 jobs to be added last month, down from 528,000 in July, according to Dow Jones estimates. The unemployment rate is expected to remain at 3.5% and average hourly earnings are expected to rise 0.4%.
Early in the summer, the Fed abandoned forward-looking guidance for future rate adjustments in favor of making data-based decisions that could make key economic data like nonfarm payrolls even more important.
Powell said at this year's annual meeting of global central banks that history has warned people not to ease monetary policy prematurely. Contract traders now see a nearly 70 percent chance of a three-yard (75 basis point) rate hike by the Fed at its regular September meeting in less than three weeks.
The stock and bond markets fell synchronously, testing the "stocks, six bonds, four" rule that has been popular for at least 40 years. Bloomberg's bond market index has fallen 16% this year, MSCI's global stock market has fallen even more over the same period, and a U.S. index tracking the investment strategy of stocks, bonds and bonds has also fallen 15% this year and is expected to be the biggest since 2008. annual decline.
Commodity investment guru Jim Rogers has been warning for the past few years that "the worst bear market in my life" is coming. After this round of asset corrections, he said in a recent interview that he expects the market to rebound in a period of time. But probably the last time.
He said he would buy silver or agricultural products now, while he would sell the FAANGs, or U.S. tech stocks. Meanwhile, Rogers remains bullish on gold.
US stocks rose and fell in the previous trading day: Today's important economic data: US August non-farm payrolls (10,000 people), estimated 29, previous value 52.8 US August unemployment rate (%), estimated 3.5, previous value 3.5 Modified monthly rate of US July durable goods orders (%), previous value 0 US July factory orders monthly rate (%), previous value 2 Important stock developments: 1. Broadcom (AVGO-US)
Chip maker Broadcom (AVGO-US) on Thursday (1st) reported fiscal 2022 third-quarter earnings and released a strong fourth-quarter forecast, alleviating concerns about a slowdown in spending on network infrastructure. It rose more than 2% before.
Broadcom Chief Executive Hock Tan said: "We expect continued strong demand across a broad range of end markets in the fourth quarter, reflecting our customers' continued investment in next-generation technologies in data centers, broadband and wireless. Broadcom's third-quarter results were driven by cloud , driven by strong demand from service providers and enterprises.
2. Lululemon (LULU-US)
Yoga and high-priced sportswear giant Lululemon (LULU-US) announced its second-quarter earnings on Thursday (1st) after the market, revenue and profit were better than Wall Street expectations, and raised its full-year revenue and profit forecast, showing that Its consumers aren't cutting spending because of inflation.
While retailers targeting higher-end consumers, such as Nordstrom and May's, have recently lowered their outlooks, citing weaker demand, Lululemon has raised its forecast for two quarters in a row. Lululemon now forecasts full-year revenue of between $7.865 billion and $7.940 billion, up from a high of $7.71 billion in its original forecast range.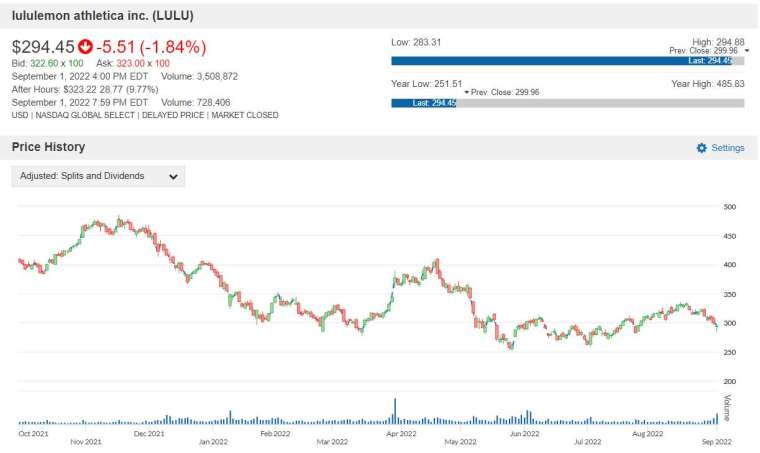 3. Meta(META-US)
Facebook parent company Meta and chip maker Qualcomm announced on Friday at a consumer electronics conference in Berlin, Germany that they had signed an agreement to allow Qualcomm to produce customized chipsets for its Quest virtual reality (VR) device, but the two Details of the terms of the agreement were not disclosed.
Engineering and product teams from both companies will work together to produce chips, which will be powered by Qualcomm's Snapdragon platform, the companies said in a statement. . The agreement also revealed Meta's reliance on Qualcomm technology, even as Meta tries to develop chips for its own virtual, augmented (AR) and mixed reality (MR) devices.