Lumen Technologies Inc. (NYSE:LUMN) has cut its generous 13% dividend for almost three months in order to relieve pressure on its free cash flow and apply more of its cash to outstanding debt.
Lumen Technologies has become much less appealing to dividend investors, but I believe the 30% drop since November represents a great opportunity to buy the stock at a very attractive earnings multiple.
Furthermore, I believe the stock has double-bottomed, which is a bullish signal that could indicate an upside breakout.
The Bottom Is In
Lumen Technologies' stock has made successive new lows between November 2022 and January 2023 after the company eliminated its dividend in November as part of a broader reset of its business priorities.
The low point was $4.96, reflecting a 30% drop in price since Lumen Technologies announced the abolition of its dividend the day before.
Lumen Technologies' stock has since formed a double-bottom chart pattern, which is considered a bullish signal and could indicate that the stock is gaining strength for an upside breakout.
Lumen Technologies has developed strong support in the $5.00-5.25 price range, which may protect LUMN from further declines. A break above $5.50, where the 50-day moving average line is currently located, would be another bullish sign for the stock.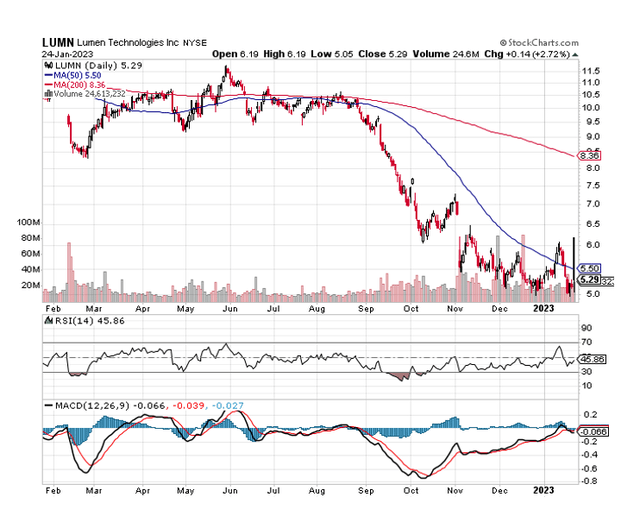 Lumen Technologies' 4Q-22 Earnings Report Might Be A Catalyst For An Upside Breakout
Lumen Technologies will report 4Q-22 earnings on February 7, 2023, and the market currently expects only $0.21 per share, a 59% decrease YoY.
Lumen Technologies has surprised to the downside in the last two quarters, but earnings expectations for the company's 4Q-22 appear to have been lowered to such an extent relative to prior quarters that the company should be able to step over this low hurdle rather comfortably in the first week of February.

The market has clearly had a lot to digest in terms of Lumen Technologies in 2022 (including three major asset sales and a dividend cut), so perhaps analysts should err on the side of caution and wait for Lumen Technologies to create earnings visibility.
Lumen Technologies fundamentally transformed its business in 2022, and the company is now focusing more on those aspects of the business that have the potential to deliver future sales and profit growth.
One such business is the fiber broadband segment, which is rapidly expanding and benefited from an 18% increase in sales in 3Q-22. Fiber broadband is a big opportunity for Lumen Technologies, and focusing on a fast-growing business may eventually lead to a higher earnings multiple for the stock.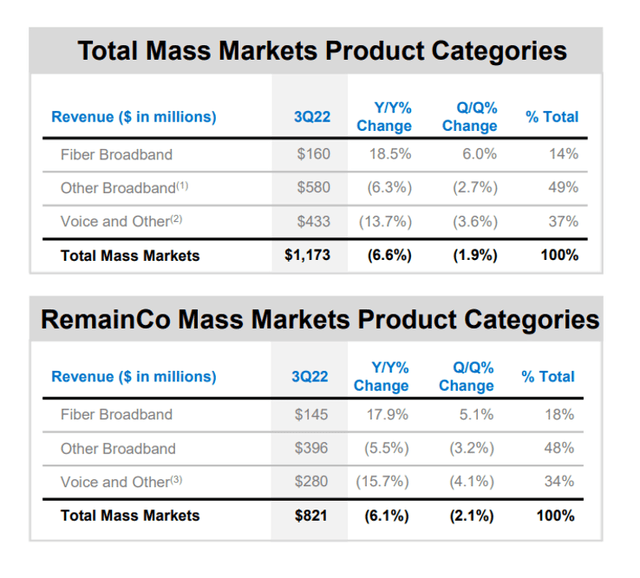 Ongoing Business Transformation
Lumen Technologies sold non-core assets for a large sum of money in 2022. Asset sales include the $2.7 billion sale of its LatAm business and the sale of some legacy telecom assets to Brightspeed. This transaction generated $7.5 billion in transaction proceeds, which will be used to deleverage Lumen Technologies' balance sheet.
Lumen also sold its Europe, Middle East, and Africa business to Colt Technology Services in November 2022 for $1.8 billion at an 11x adjusted EBITDA multiple. The proceeds from the most recent asset sale are almost certainly being applied to Lumen Technologies' debt.
Cheap Valuation Implies Very High Margin Of Safety
The market expects earnings of $0.76 per share in 2023, resulting in a P/E ratio of 7.0x. The P/E ratio reflects the fact that Lumen Technologies recently sold a number of non-core assets, implying that future earnings will be lower.
AP/E ratio of 7.0x implies a very high margin of safety, and now that the dividend has been eliminated, Lumen Technologies can fully focus on expanding its high-growth fiber broadband business.
Why Lumen Technologies Could See A Lower Valuation Multiple
I predicted in my last Lumen Technologies article, published in November 2022, that the market would take some time to recover from the company's dividend shock, but the stock's valuation, in my opinion, now already reflects all the bad news imaginable.
Moving forward, management must emphasize its run-rate free cash flow and earnings power so that investors can form more accurate expectations for the earnings report. Failure to do so could result in an even lower earnings multiple.
My conclusion
Considering Lumen's out-of-favor status following the dividend suspension, a low earnings multiple, and an improving chart profile, I believe an investment in Lumen Technologies could provide investors with double-digit total returns over the next 12 months.
Lumen Technologies' 4Q-22 earnings expectations are also quite low, and a beat could result in a relief rally, lightening up the chart profile even more.
Lumen Technologies, I believe, has bottomed and that the stock, at a 7.0x earnings multiple, is an absolute steal for investors.