Background
Omeros Corporation (NASDAQ:OMER) is a commercial small-cap biotech based in the US developing several pipelines targeting complement systems. The most advanced indication is Stem-cell transplant-associated TMA (TA-TMA) that already finished pivotal phase 3, atypical hemolytic uremic syndrome (aHUS) is going through phase 3, and IgA nephropathy is currently going through phase 3 with interim data readout expected in 1H 2023. The stock has sold off big time after its lead indication TA-TMA received a CRL from the FDA, and FDA further rejected the company's appeal to re-assess the BLA. At this point, we do not ascribe too much value to TA-TMA, and we believe it is time to assess if other pipelines justify the current valuation (EV 280M). During the Q3 earnings call, the company noted that they would have around 60% of enrollment completed for their IgAN trial, and they are on track to release interim data of 9-month proteinuria data (90% powered) and some degree of eGFR data (although we don't expect it to be powered as they would need full enrollment of 400pts). We believe if the phase 3 data is positive, the company will be able to file an accelerated approval and get the drug approved by 2024, and we believe the market is completely missing the potential of Narsoplimab in IgAN at this point in time.
Narsoplimab's mechanism of action makes sense.
Narsoplimab is a fully human IgG4 monoclonal antibody that inhibits mannan-binding lectin-associated serine protease-2 (MASP-2), the effector enzyme of the lectin pathway. We like Narsoplimab's unique mechanism of action as it targets the core cause of inflammation that we know clearly aggregates IgAN diseases. We believe the target is well validated, and we also liked the fact that Narsoplimab is the only anti-MASP-2 inhibitor being studied. We believe different types of complement inhibitors (factor b and factor C5 inhibitors) will all have a place, and having a novel differentiated mechanism of action can be crucial for Narso to maintain its market share when it is approved. The phase 2 IgAN study analyzed the drug's response when administered intravenously and when administered both intravenously and subcutaneously in subjects of Asian descent with IgA Nephropathy. We believe having an SC version of the dosage form should only be helpful for the market penetration of the product; however, we believe they may have to conduct another trial once the IV dosage form is approved in the future.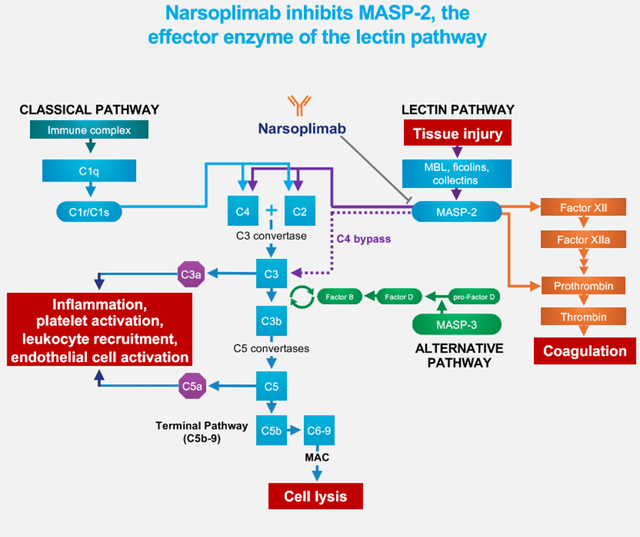 To understand how Narsoplimab works, we have summarized how the complement system works:
The complement system has three pathways, i) classical, ii) lectin, and iii) alternative pathway. Although all three pathways lead to the activation of C3 and generation of C5 convertase leading to a downstream signal that leads to cell lysis, only the classical pathway is antibody-dependent. For the classical pathway, antigen-antibody complexes are the main activators of the pathway, and only antibody classes of IgM, IgG1, IgG2, and IgG3 (key autoantibodies that are an important component of the acquired immune response to infection) can activate the C1 (to an active version C1qrs), which is the start of the classical pathway. On the other hand, the Lectin pathway, which Narsoplimab targets, are antibody independent. Mannan-binding lectin, MBL recognizes and binds to certain carbohydrates (mannan) on the surface of some microorganisms and further activates MBL-associated serine protease (MASP-1 and MASP-2) that cleaves and activates C4 and C2, generating C3 convertase. Narsoplimab, MASP-2 inhibitor, cleaves C2 but not C4, and therefore preventing C3 convertase from forming, further inhibiting downstream effects, especially inflammation that leads to the progression of IgAN disease. Proteinuria in IgAN results from i) active inflammatory lesions and ii) sclerotic glomerular lesions with hyperfiltration and tubular damage. Narsoplimab focuses on the inflammatory lesions, although we believe it shouldn't impact the sclerotic glomerular lesions, and this may be the reason why the drug was more effective in certain patient subtypes of patients. especially those with more advanced renal function decline. An alternative pathway is another pathway that is not antibody-dependent; it is initiated by foreign cell surface proteins such as lipopolysaccharide (endotoxins) from gram-negative bacteria, Teichoic acid from gram-positive cell walls, parasites, tumor cells, nonpathogens, etc., that leads to spontaneous hydrolysis of C3 (leading to the production of C3b). The activated C3bs are continuously generated at a low rate and always circulate the blood system, although the activated form of C3 has a very short half-life, and it gets inactivated very soon unless it binds to an appropriate surface. The terminal complement is the terminal component of the complement cascade of C5b, C6, C7, C8, and C9 that leads to the formation of membrane attack complex (MAC) that leads to cell lysis. Of note, the terminal pathway is common to all pathways. A transmembrane channel formed by MAC distributes the osmotic equilibrium of the cell, lets ions pass through the channel, and water to come into the cell, leading to cells swelling and membranes being permeable to macromolecules, which then escapes from the cell; this leads to cell lysis that kills the pathogen.
Phase 2 data from the IgAN trial was highly compelling
Narsoplimab is one of the most advanced candidates of complement inhibitors being developed in IgAN, and if the phase 3 readout expected in H1 2023 is positive, we expect approval by early as 1H 2024 through an accelerated pathway. We like the phase 2 data that the company already published based on its robust proteinuria benefit >60% reduction, fast onset of action, eGFR stabilization even in a very tough-to-treat population, and robust safety significantly safer than steroids. Although the trial size was small, and the treatment duration was short, we believe these results can be easily translated to phase 3 results as the trial enrollment criteria are very similar (although it seems like phase 3 enrolled a milder patient population). Furthermore, we believe the bar for approval is fairly low considering that the drug targets very advanced IgAN patients, and the only competitor Narsoplimab should worry about would be Calliditas's TARPEYO, which is targeted budesonide (steroid), which comes with many safety overhangs such as infection and diabetes. So far, the safety data that Narsoplimab has shown seems highly compelling. Based on the 3 years of long-term follow-up data from phase 2, and we believe the safety is fairly de-risked at this point. If approved, we believe Narsoplimab to compete with Tarpeyo; perhaps it can be used in combination with steroids to take advantage of the potential synergistic effect of two inflammation-targeting therapies. However, the biggest differentiating advantage would be that it has a superior safety profile to steroids, and we believe that would put complement inhibitors at a better positioning for chronic therapy as steroids are not recommended as a long-term therapy due to their unfavorable side- effect profile.
Risks
The company has >$300M debt and high cash burn due to its R&D programs; if the company is not cashflow positive yet, the company may issue more shares and dilute the value of the shares. If Narso is not approved yet, we believe there is clinical and regulatory risk; where if the drug does not receive FDA or EMA approval, the stock could suffer a big sell-off. Furthermore, there could be CMC risk as the company relies on third-party manufacturers to produce their pipeline products. Also, the management and IR don't seem to be proactive in marketing their story; for example, we haven't seen any updated deck available on the company, and the company is extremely undercovered by sell-side analysts, which may be the reason why Narsoplimab's IgAN story is under the radar.
Conclusion
Based on the disappointing response from the FDA received 2H of last year, we believe Omeros corporation's hematopoietic stem cell transplant-associated thrombotic microangiopathy (TA-TMA) indication should be considered a free option at this point, and the worst-case scenario has been already priced in at this point. Now, we believe the key focus is on the IgAN indication readout in 1H of 2023, which we are positive and any positive data from the IgAN trial should propel the stock significantly higher, considering that Narso will probably be the first disease-modifying complement inhibitor candidate to be approved by 1H 2024.