Investment Thesis
Palantir (NYSE:PLTR) reported disappointing Q2 results on Monday, casting doubts on its ability to deliver growth levels enough to justify its hefty valuation. Revenue grew 26%, below management's guidance of at least 30% medium-term growth. The popular meme-trade IT company cited a "frustrating contracting environment" for its troubles." Still, I believe that PLTR misguided shareholders about its market position, talking down the competition in the enterprise software market. Its defense focus hasn't helped it ramp up revenue as many predicted in light of rising geopolitical tensions. Commercial revenue year-over-year "YoY" growth came primarily from its affiliates, as opposed to organic growth stemming from market acceptance. Mediocre performance signals fundamental product portfolio challenges beyond sales cycle volatility, as management claims .
Revenue Trends
PLTR's leadership blamed a "frustrating contracting experience" for its slower-than-expected growth, an excuse often more heard during government shutdowns, which isn't the case, at least for its largest two customers; the US and UK governments. Management stated that some contracts were put off and others pushed down. Although management hasn't elaborated on these dynamics, the context, at least from my understanding, points to the company's structural risks manifested in its heavy reliance on policing and surveillance contracts, which put it on the map but also create uncertainty as US lawmakers revamp the nation's digital privacy landscape, a risk overlooked by many, but important enough to be mentioned on its annual report.
Our business is subject to complex and evolving US and non-US laws and regulations regarding privacy, data protection and security, technology protection, and other matters. Many of these laws and regulations are subject to change and uncertain interpretation and could result in claims, changes to our business practices, monetary penalties, increased cost of operations, or otherwise harm our business. PLTR SEC Filings
For example, the company recently lost a $127 million contract with the Department of Homeland Security "DHS" awarded under the Trump administration, as the White House continues adjusting its attitude towards data collection and surveillance, manifested in the repeal of the 2017 Enhancing Public Safety Act, but also shaped by actions of other branches of governance, including the Judicial branch, after a US Appeal's Court 2020 decision against the National Security Agency's "NSA" mass surveillance program, and the Legislative branch manifested in evolving discussions that resulted in the introduction of new privacy bills awaiting Congress Committee votes before becoming law, targeting the likes of Facebook (META) and Google (GOOG).
Beyond the DHS' contract loss, there are numerous incidents where PLTR lost contracts due to public backlash or reputational considerations, one of which was by New Orleans Police after the Verge exposed a secretive Predictive Policing program targeting the 39ers and other gangs. Last year, privacy campaigners pushed the UK government to drop a contract, expanding on the company's NHS programme. This same group is preparing for a new campaign against a newly proposed agreement with PTLR. The loss of these contracts significantly impacts growth for a company with a small revenue base such as PLTR ($1.7 billion TTM revenue).
These challenges also impact the company's Total Addressable Market "TAM." One should ask, what good is Palantir Torch after harvesting social media of non-US citizens became illegal after Biden's repeal of 2017 Enhancing Public Safety Act? One should also look beyond the impact of contract losses on revenue to incorporate effects on TAM. For example, the controversy of New Orleans' predictive policing program with PLTR likely discouraged other States from buying Gotham or at least expanding its use for predictive policing. These challenges explain the mismatch between the company's engineering and product capabilities, fueling optimistic revenue forecasts and its actual results. The table below shows PLTR's government contract awards by awarding agency. While the table below is not comprehensive of all government contracts, I believe it gives a rough estimate of government segment revenue segmentation.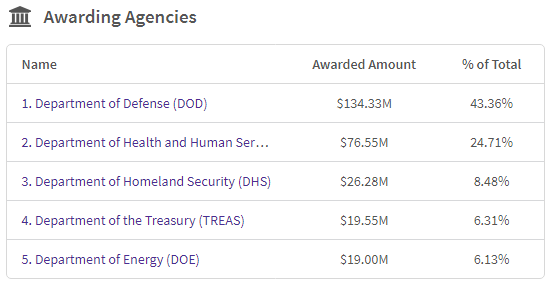 Many people cite the company's growth in the commercial sector. However, this comes from a low revenue base, fueled by inorganic growth from the company's $326 million SPAC equity acquisitions in 2021 that carried purchase agreements of PLTR's products valued at $768 million. Beyond these contracts, one can't see market enthusiasm for PLTR's products, as mirrored in recent QoQ commercial revenue growth shown below.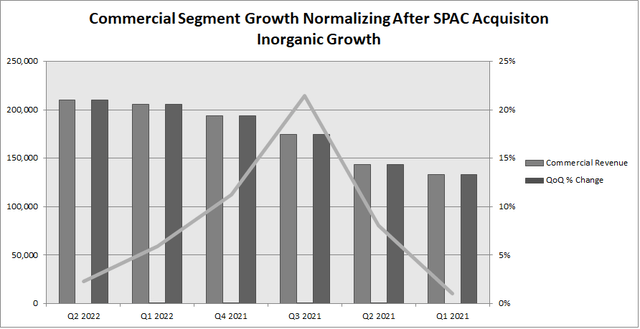 Financial Position and Valuation
On a GAAP basis, PLTR remains unprofitable, pushed down by stock-based compensation expenses "SBC." For now, PLTR doesn't repurchase its stock to repay SBC, opting for dilution instead of depleting its cash. Its adjusted income from the operation removes SBC from the expense line and does not say much about the company's profitability. In the IT sector, net margins often fall between 30% in oligopolistic markets, as in the Amazon (AMZN) AWS's case, to 7%, as in mature cloud offerings such as Salesforce (CRM) customer relationship management. PLTR's long-term operating margin is likely somewhere in between.
The company spends heavily on research and development (R&D). However, one would be mistaken to think that this, at least in its entirety, mirrors future product expenses. R&D includes expenses related to the installation and adjustments of algorithms on consumer sites, which I believe to a large extent are idiosyncratic, meaning that they are unique to each customer, offsetting the economics of scale often accompanying enterprise software vendors.
Thus, excluding R&D expenses from the Cost of Goods expense line overestimates profitability, namely the gross margin figure, at least to the extent that these expenses mirror customer-specific software adjustments. As mentioned above, the company remains unprofitable on a net-income level, reporting a $179 million loss, more than the same period last year, despite slowing growth, raising an eyebrow on profitability and how the company accounts for its expenses.
If this hypothesis is true, it is doubtful that PLTR can sustain its current price. Non-GAAP Price to Earnings "PE" ratio stands at 70x, compared to the Information Technology "IT" sector average of 19x, and is much worse when including SBC, whose exclusion doesn't make sense in the first place. In the long run, the company will likely realize some leverage, but these dynamics cast doubt on its magnitude.
Summary
PLTR blamed a challenging contracting environment for its troubles, but, to my knowledge, no other big tech complained about this issue. There haven't been any government shutdowns. Instead, the government budget has been increasing. Geopolitical events should have theoretically created the perfect environment for a defense-focused tech such as PLTR, as described by Bank of America (BAC) and earlier by Piper Sandler (PIPR), highlighting the existence of challenges that extend beyond its product offerings (assuming no product quality or value-for-money issues).
Increasing privacy scrutiny by regulators poses a significant risk for some of PLTR's products, such as Torch and Gotham's Predictive Policing, which might explain why the DHS decided to drop its controversial contract with the tech vendor. These dynamics are not new, and there are many situations where a client dropped PLTR's contract due to privacy or reputation concerns, including New Orleans Police and the UK government. I believe that the company's confrontational approach to complex social issues has caused reputational damage, making it harder to achieve its growth targets, at least in the short run.
It's built its business supporting drone and missile strikes, immigration raids and arrests, not the delivery and care of medicine [] It's got a questionable agenda, and I think that will have a negative impact on patient trust, particularly among minority communities who may feel a threat from big government. Clive Lewis, UK Member of Parliament

Naturally, we have valid concerns on whether the existing surveillance framework Palantir has created to track and arrest immigrants will be supplemented by the troves of potentially personal health information contained within the HHS Protect platform. Letter from US Congress
Another challenge stems from the competition, talked down by management during the earnings call, deflecting questions about its market position by stating that it mainly competes with the internal IT departments of its customers. The Department of Justice's decision to drop PLTR in favor of a polish microcap DataWalk is evidence that PLTR faces competition from other enterprise software vendors and that its product portfolio is not as unique as it says.