Wheat prices tumbled after Ukraine and Russia signed a deal on Friday to restart grain exports from Black Sea ports, as the deal could ease a brewing global food crisis.
After Russian President Vladimir Putin asked Western countries to lift export restrictions on Russian grains, the United Nations pushed Ukraine to export grain stranded in Black Sea ports, with Turkey taking the lead. initiative."
Turkish President Recep Tayyip Erdogan said the grain export agreement will play an important role in solving the global food crisis.
Ukraine, Turkey, Russia and the United Nations will set up a joint coordination center in Istanbul. All parties will send representatives to participate in monitoring ships in the Black Sea waters. Neither party will attack any related ships exporting grain from the Black Sea port.
A drought in key growing regions such as the United States, India and Canada earlier this year threatened supplies of wheat and other grains and put millions of people around the world at serious risk of starvation. Some countries, including India, have imposed bans on wheat exports to avoid civil unrest.
Rising global food prices are hurting consumers around the world, but worst in developing countries, where soaring inflation and a stronger dollar have pushed some, such as Sri Lanka, to the brink of bankruptcy.
More than 20 million tons of grains have been stranded in large warehouses at Ukrainian ports since Russia's blockade of Ukrainian ports on the Black Sea halted grain exports. The grain export deal reached on Friday by Ukraine and Russia brought timely rains to the global grain shortage.
Chicago Board of Trade wheat for September delivery fell 6.29% to $7.55 a dollar, a five-month low. Russia's invasion of Ukraine in late February sent wheat prices soaring 70% in the following two weeks to a record high of more than $13 a buck and is now back at pre-war levels.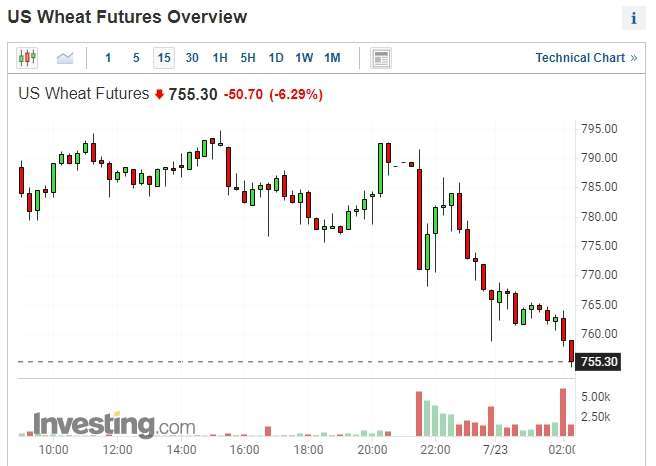 Simon Wilcox, Cefetra Grain Origin Manager, warned: "This market is expected to continue to be very volatile, and even if Ukraine and Russia sign the agreement, I do not believe that they will actually be able to deliver the goods because there are many problems with insurance. There are a lot of practical problems, but if the market To react and think that 20 million tons of wheat can be shipped now, then it will fundamentally change the market supply and demand."
"Wheat prices could fall further if Ukrainian grains open up for export," Wilcox said. "But if not, I'm sure there will be a rebound in wheat prices because the market will become extremely tight because not all the grain can be shipped out of Ukraine."