This article, written by Eranda Kalhara, CFA, and Dilantha De Silva, was published to members of Leads From Gurus on July 1.
Suncor Energy (NYSE: SU), Canada's premier integrated energy company operating oil sands mining and Offshore oil production facilities have witnessed a surge in share prices in 2022 on the back of soaring energy prices. By contrast, the company paid the price back in early 2020 when pandemic-related disruptions wreaked havoc on energy markets. Governments closed borders and oil prices plummeted as lockdowns forced people to work from home, park cars in garages and planes on hangers. That situation is reversing today, with many other geopolitical and macroeconomic developments helping oil prices recover.
Given all of this, the question we face today is whether now is the right time to book profits on our Suncor investments (the model value portfolio) or keep investing in anticipation of more gains. To answer this question, we need to consider the global economic outlook, assess the likelihood of another shock to the oil market, and assess how OPEC's decision to increase daily production will affect oil prices and thus Suncor's profitability.
Suncor is a beneficiary of higher oil prices – what will the future hold?
Suncor has been a clear beneficiary of higher oil prices, and shareholders have done well since oil prices began to rise last year.
Oil prices bottomed out in the spring of 2020 during the Covid-19 market crash, but today a barrel of oil in the U.S. is near $110, while the average price of a gallon of gasoline recently hit a record high of $5.016. to $2.77 a year ago. Russia's war with Ukraine has been one of the main reasons why oil prices have soared this year, as energy majors including Shell, BP and Exxon have had to pull out of Russian energy deals while the United States and most of its Western allies have announced bans Imports of Russian oil and other petroleum products (the U.S. receives 8% of its crude oil shipments from Russia).
Russia's output was about 15 percent below its July target of 10.8 million barrels per day, according to the International Energy Agency. That number is expected to drop further due to Western sanctions. The situation has challenged projected oil supplies, leading to supply-demand imbalances and a resurgence of geopolitical risks that are highly sensitive to the market. The challenging situation is expected to continue for some time as we have yet to see any progress in peace discussions. In other words, abnormally high oil prices are likely to continue for the foreseeable future.
Chart 1: WTI spot price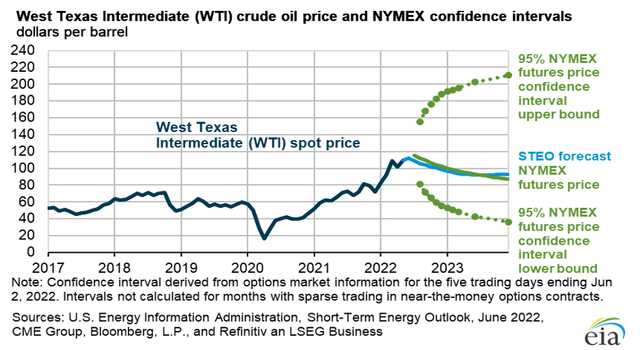 OPEC production has slowed due to the pandemic, and output has not caught up with post-pandemic demand. Energy markets will face upward price pressure until OPEC maintains or exceeds its commitment to the established program. While OPEC+ announced plans to increase oil production to offset Russian supply at the behest of Washington, it is not surprising that prices continued to rise as OPEC was unable to fully offset Russian supply losses. Oil cartels have agreed to boost production by 648,000 bpd (7% of global demand) in July. However, only a few countries in the group, such as Saudi Arabia and the United Arab Emirates, have the capacity needed to increase production to expected levels. Many Wall Street analysts are divided on the proposed increase, as Riyadh does not appear to want to break up a five-year alliance on oil with OPEC+ co-leader Moscow.
Figure 2: Liquid Fuel Production and Consumption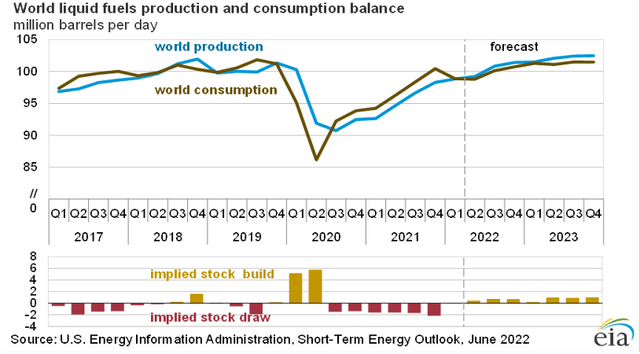 U.S. oil producers, on the other hand, are taking a slow approach to expanding production because they don't want to see a sudden increase in supply that would cause prices to drop and a buildup of large inventories to eat into their profits. Large investors are also pressuring these companies to commit to ESG targets as well, making it harder for oil majors to put their investments into oil production. Commenting on the predicament, Mace McCain, chief investment officer at Texas-based Frost Investment Advisors, said:
The U.S. oil rig count now stands at 520, having hit a low of 295 a year ago. We are still well below the 2014 high of 1,609 units. Oil majors are reluctant to increase exploration spending, a trend that has been growing since 2015.
Exhibit 3: US Gasoline Price Forecast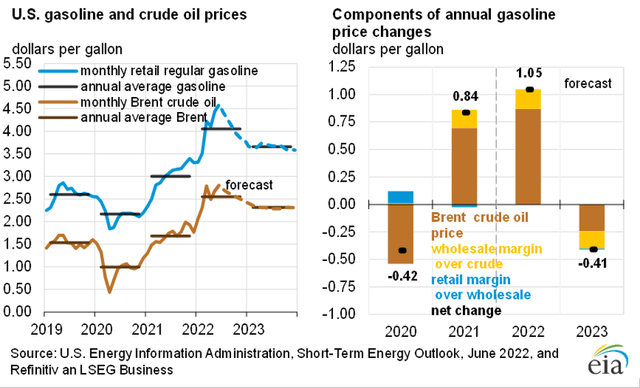 While a looming recession could reduce demand for oil, it seems unlikely that prices will drop significantly given all the supply-side issues we're seeing today. In its June Short-Term Energy Outlook report, the EIA forecast that WTI will average $102.47 a barrel in 2022, an increase of more than $4.27 a barrel from its previous estimate in May. The EIA also expects Brent to average $107.37 a barrel in 2022, up $4.02 a barrel from its May forecast.
Suncor benefits from its scale and consolidated operations
Suncor's business can be divided into three main segments: Oil Sands, Exploration and Production, and Refining and Marketing. The Oil Sands segment focuses on the extraction and upgrading of the oil sands of Alberta, Canada to produce synthetic crude oil that can be used in refineries, including Suncor's 54% and 59% stakes in the Fort Hills and Syncrude projects, respectively, and contributed approximately 42% of 2021 revenue. The company's underlying operations include Millennium and North Steepbank facilities, and in-situ oil sands operations at MacKay River and Firebag. Suncor benefited from its first-quarter 2022 operating capacity of 766,000 barrels of oil equivalent per day and refinery throughput of 436,500 barrels of oil per day, which is high compared to some of its peers in the same region. SCO's total production is 515,000 barrels per day at 96% utilization at the upgraded unit, supported by on-site production of 249,000 barrels per day at 98% utilization. We must thank management for its decision to improve reliability, asset optimization, and focus on operations at Ford Hills, which provided 88,000 barrels of oil per day and supported momentum in the first quarter.
Due to its size and scale, Suncor Energy can perform regular maintenance without seriously affecting its daily production. In addition, Suncor benefits from long-life and low-decay oil sands assets. Still, Canada's focus on maintaining climate goals to lower carbon emissions per barrel could pose a challenge to future expansion of bitumen extraction to supply its main oil sands business. The high geographic concentration of oil-producing assets and the focus on producing crude oil from the Alberta oil sands (the additional cost of extracting oil from the oil sands compared to production from conventional wells) threatens Suncor's overall business.
Suncor's refining and marketing operations (or downstream operations) are carried out at refineries at seven locations, and products are sold through Sunoco and Petro-Canada branded retail stores, a network of more than 1,500 Petro-Canada retail and wholesale locations, which The business contributes around 53% of 2021 revenue. Suncor's refinery production is primarily focused on distillate products. Suncor continues to strategically expand its logistics network, adding 4 kbpd of nameplate capacity to its Edmonton refinery in early 2021. The prevailing macroeconomic conditions have helped Suncor's LIFO margins improve 20% in the downstream segment, and the segment's contribution is expected to only increase in the company's revenue in the coming quarters, which is good news for investors.
The integrated business model supports the company's efforts to capture value from both ends, while providing downside protection for the company and its shareholders.
Strong balance sheet drives shareholder value
Suncor Energy has always been able to maintain strong liquidity positions to manage commodity price cycles. Currently, the company holds liquid assets worth over C$4 billion (C$2.1 billion in cash and cash equivalents). The company has also been able to accelerate debt repayments in recent quarters, given favorable market conditions. The company reduced its debt load by nearly C$730 million in the first quarter, with net debt of about C$15 billion, and expects to achieve a net debt position of C$12 billion by the second half of the year.
On a recent investor conference call, management highlighted that once net debt reaches C$12 billion, it plans to use 75% of free cash flow to repurchase shares, 25% to reduce debt, and 100% of free funds Flow to Shareholders Distributions are made once the net debt level reaches C$9 billion. In the first quarter of this year, Suncor returned $600 million in dividends and $830 million in share repurchases, which equates to an annualized cash return of 11% using the average share price in the first quarter. Even if oil prices fall from these levels but remain above $50, Suncor's strong liquidity position will allow the company to maintain its dividend. The company recently raised its dividend by 12% to 47 cents per share (it had previously doubled it) and also raised its buyback authorization to about 10% of its public float.
Suncor Energy has started sales of its wind and solar assets (non-core businesses), with sales expected to be completed within the next 12 months. Proceeds from the liquidation of assets will be used in accordance with the company's established capital allocation policy, which means shareholders can also get a surprise in the form of dividends and/or buybacks in 2023.
external pressure
In 2021, Suncor management introduced a plan to reduce operating costs by C$1.7 billion over a multi-year period. Suncor has been continuously upgrading its systems and facilities to maintain operational reliability and workplace safety performance for its oil sands operations. The company regularly consults with third-party experts, including mining brokers and global safety experts, to find new ways to ensure workplace safety, and these do come at a cost to the company. As the dynamics of the energy industry change, we believe that Suncor and its peers will face significant pressure going forward to reduce their carbon footprint while maintaining safety protocols, which could worsen the company's margin profile.
As new business processes and new systems are in place, management expects to incur additional costs in the second half, but is on track to achieve the aforementioned C$1.7 billion cost savings target. We believe it is too early to predict whether the company will be able to achieve permanent cost efficiencies from current levels given the uncertainty in the energy market.
Increased environmental regulations are also a factor to consider. As mentioned earlier in the article, Canada's increasing environmental regulations are aimed at reducing greenhouse gas emissions, which may limit the company's growth potential in the medium term. Also, Canada's exploration and production sector has been out of favor with policymakers due to prevailing political and legal hurdles, which doesn't bode well for Suncor.
take away
We do not want to make investment decisions under the assumption that oil prices will remain high for a long time. This is because we believe that geopolitical conditions can change very quickly. With a long-term focus, it doesn't make sense to base investment decisions on temporary geopolitical tensions anyway. For this reason, we do not believe now is the time to increase our Suncor stake, although we believe that Suncor will continue to benefit from oil market uncertainty for the foreseeable future. We also don't want to book our profits at this point, as Suncor appears to be on the right track to reward long-term shareholders handsomely for years to come. For now, we will hold SU stock and monitor new developments.