Buying into a company when the fundamental picture is changing rapidly can be rather difficult. This is because it's unclear sometimes whether recent developments are indicative of a paradigm shift in the firm's operations or whether the company will eventually revert back to the kind of fundamental performance it exhibited previously. One good company to look at where investors need to ask themselves this question is Thermon Group Holdings (NYSE:THR). Based on historical financial performance, the company is not a bad prospect. But it's not a great one either. But if we use the most recent data provided by management, shares look fairly affordable. In the event that newer data is indicative of a change in the company's overall fortunes moving forward, then shares would probably make for a soft 'buy'. Otherwise, it should be considered a solid 'hold' by investors.
A change in circumstances
According to the management team at Thermon Group Holdings, the company operates as one of the largest providers of highly engineered industrial process heating solutions for process industries. To best understand the company's operations, it would be helpful to dig into some of its core product categories. First and foremost, we have the Heat Tracing space. Under this category, the company offers turnkey heat tracing solutions for maintaining pipe, vessel, and foundation temperatures in industrial and hazardous locations. It also provides the same types of offerings for certain commercial applications. These offerings include software automated engineering design services, heat tracing products, smart connected control and monitoring systems, construction services, and maintenance services. And the specific applications involved include process temperature maintenance, freeze protection, vessel temperature maintenance, and more. The company also provides customers with tubing bundle solutions such as heated and insulated sample lines for process control and instrumentation, as well as continuous emissions sampling lines for regulatory required environmental emissions monitoring and enforcement.
Under its Controls, Monitoring, and Software category, the company produces and sells smart, connected devices and software systems for the control and management of a company's heat trace system. These fall under a range of offerings such as Genesis and TraceNet control products. The company also provides Process Heating offerings such as heating and filtration solutions. Plus it offers Project Services engineering and design, procurement and project management services, turnkey construction installation solutions, maintenance services, and more. The firm achieves all of this through the nine manufacturing facilities and two smaller assembly facilities that it has at its disposal. And through a global network of sales and service professionals, as well as distributors spread across no fewer than 30 countries, the company has a true global reach. Even that being the case though, an impressive 43.4% of the firm's revenue came from the US and Latin America in 2022. Canada accounted for another 32.5% of sales, making North America as a whole responsible for 75.9% of revenue.

Fundamentally, Thermon Group Holdings has had something of a bumpy ride in recent years. After seeing revenue rise from $308.6 million in 2018 to $412.6 million in 2019, revenue then plummeted over the next two years to $276.2 million. This makes sense given the effects of the COVID-19 pandemic. In 2022, sales recovered nicely, hitting $355.7 million. On the bottom line, the picture for the company has also been mixed. But at least in this case, profits have remained in a fairly narrow range with a low point of $0.9 million and a high point of $22.8 million. In 2022, the company generated profits of $20.1 million. Operating cash flow has been similar in this regard. With the exception of the 2020 fiscal year when cash flow hit $70.7 million, the metric has remained between $22.9 million and $30.3 million over the past five years. If we adjust for changes in working capital, we would see something similar, with a range of between $25.5 million and $55.6 million. As for EBITDA, the range over the past five-year window, with no clear trend visible, was from $36.2 million to $83.5 million. In 2022, the metric totaled $58.5 million.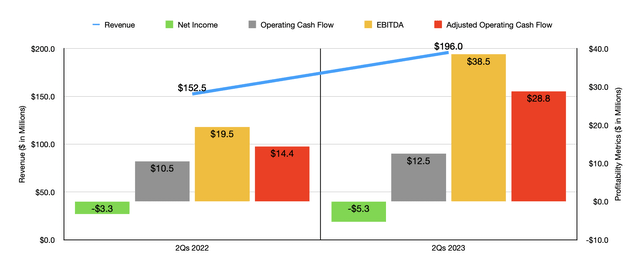 The picture for the company began to change during its 2023 fiscal year. Sales in the first half of the year, for instance, totaled $196 million. This represents an increase of 28.5% over the $152.5 million generated one year earlier. Sales growth for the company was particularly strong throughout the US and Latin America, spiking 75%, while Canada experienced a 33% rise year over year. Strong maintenance-related spending from its customers was responsible for this. The company also benefited to the tune of $4 million during this timeframe from its acquisition of Powerblanket. As to the central question that I posed at the beginning of this article, management said that the effect of loosening pandemic restrictions outside of the Asia Pacific region, combined with pent-up demand from periods of stagnant activities caused by lockdowns, have all combined to strengthen customer demand from most of the regions in which it serves. What this suggests is that while the acquisition certainly helped the company marginally, the bulk of this increase in sales will probably be temporary.
On the bottom line, the picture has been somewhat mixed. In the first half of the 2023 fiscal year, the company generated a net loss of $5.3 million. That was worse than the $3.3 million loss achieved one year earlier. On the other hand, operating cash flow improved from $10.5 million to $12.5 million. If we adjust for changes in working capital, however, the metric would have doubled from $14.4 million to $28.8 million. Meanwhile, EBITDA for the company shot up from $19.5 million to $38.5 million.
For 2023 in its entirety, management expects sales to remain strong, totaling between $405 million and $420 million. $18 million of this should come from the aforementioned acquisition. Adjusted earnings per share should be between $1.30 and $1.39. That would translate to net income, on an adjusted basis, of $45.4 million. If we annualize results experienced so far when it comes to other profitability metrics, we should anticipate adjusted operating cash flow of $90 million and EBITDA of $115.5 million.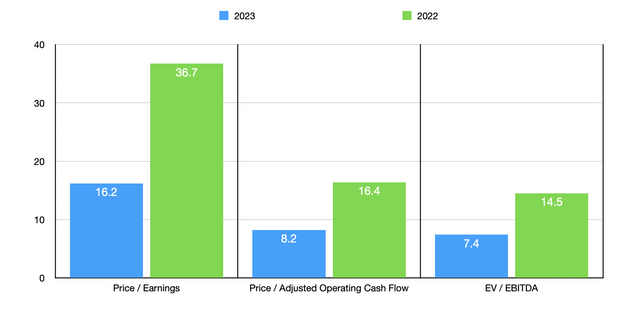 Based on these numbers, the company is trading at a forward price-to-earnings multiple of 16.2. The price to adjusted operating cash flow multiple is considerably lower at 8.2, while the EV to EBITDA multiple should be around 7.4. By comparison, if we were to use the data from the company's 2022 fiscal year, we would get multiples of 36.7, 16.4, and 14.5, respectively. As part of my analysis, I compared the company to five similar firms. On a price-to-earnings basis, these companies ranged from a low of 4.2 to a high of 41.9. And using the EV to EBITDA approach, the range was from 2.3 to 20.7. In both of these cases, two of the five companies were cheaper than Thermon Group Holdings. And finally, using the price to operating cash flow approach, the range was from 4.6 to 50.6. Of the four companies with positive results, three were cheaper than our target.
Company Price / Earnings Price / Operating Cash Flow EV / EBITDA Thermon Group Holdings 16.2 8.2 7.4 Allied Motion Technologies (AMOT) 41.9 50.6 16.3 Powell Industries (POWL) 33.9 N/A 20.7 Encore Wire Corporation (WIRE) 4.2 4.6 2.3 Atkore (ATKR) 6.2 7.1 4.0 AMETEK (AME) 29.9 32.4 20.0 Click to enlarge
Takeaway
Based on the data provided, I still think that Thermon Group Holdings is an intriguing company that might well go on to create some attractive value for its investors. Having said that, if we assume that financial performance will eventually revert back to what it was in previous years, the stock does not look particularly appealing from a valuation perspective. Because of this, I feel as though a 'hold' rating, which reflects my view that shares should generate upside or downside more or less in line with what the broader market should achieve, is appropriate at this time.