The U.S. Labor Department reported on Friday that hiring in July was much better than expected and the unemployment rate fell to 3.5%, raising expectations for a rate hike by the Federal Reserve and weakening stocks.
The report showed that the US non-farm payrolls increased by 528,000 in July, and the unemployment rate was 3.5%, far better than expected. The estimate is for an increase of 258,000, and the unemployment rate is 3.6%.
Wage growth also soared, with average earnings up 0.5% for the month and 5.2% from a year earlier. The numbers have fueled inflation, with consumer prices already rising at their fastest pace since the early 1980s.
After the report was released, the U.S. dollar index rose more than 50 points to 106.42 in the short-term. The 10-year yield hovered around 2.78%.
Market expectations that the Fed will slow down the pace of interest rate hikes have been shattered, and the currency exchange market shows that the probability of the Fed raising interest rates by 75 basis points in September is higher than that of a 50 basis point rate hike.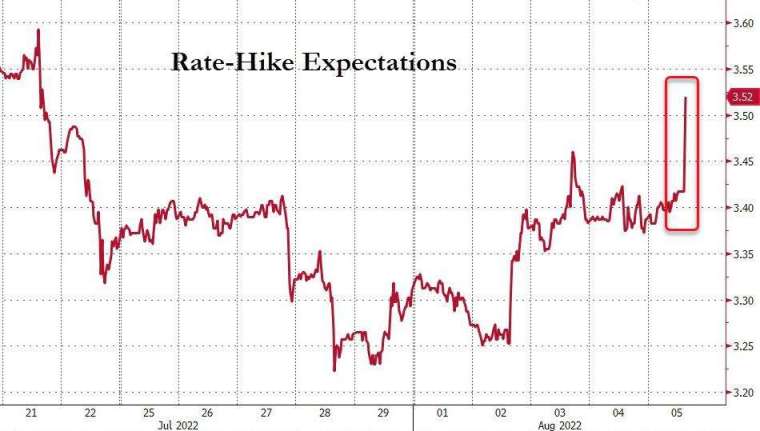 Another bad news for the Fed is the decline in the labor force participation rate. The number of people in the job market — both working and looking for work — fell last month.
Expectations were pessimistic, but July's increase was the best since February and well above the average employment gain of 388,000 over the past four months.
But not only did July beat expectations, but the previous two months were both revised up: Total nonfarm payrolls rose 2,000 to 386,000 in May and 26,000 to 398,000 in June.