From my experience, some of the simplest companies are the ones that end up going on to generate the most attractive returns. This is especially true when you focus on firms that are trading on the cheap. One great example of this can be seen by looking at Weyco Group (NASDAQ:WEYS), an enterprise that focuses on designing and distributing footwear, much of which is centered on men as the target market. Lately, sales achieved by the company have been improving nicely and cash flow and profit figures have followed suit. Add on top of this the fact that shares of the company look quite affordable at this time, at least on an absolute basis, and I believe the enterprise still warrants a 'buy' rating at this moment, a rating that indicates that shares should outperform the broader market moving forward.
If the shoe still fits
Back in early July of last year, I wrote a bullish article about Weyco Group. At the time, I described the company as a small player in the large global shoe market. And truly, it is a small firm, boasting a market capitalization of only $248.3 million as of this writing. Despite its small size, the company had done well to recover from the COVID-19 pandemic and shares of the enterprise were looking cheap on an absolute basis while looking reasonably priced compared to similar firms. All combined, this led me to rate the company a 'buy'. Since then, things have gone quite well for investors. While the S&P 500 is up 4.8%, shares of Weyco Group have generated upside of 10.8%.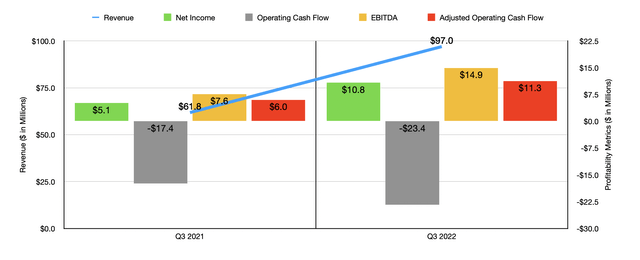 This return disparity is not a fluke in my opinion. To see what I mean, we only need to look at data covering the third quarter of the company's 2022 fiscal year. This is the most recent quarter for which data is available and is one of only two quarters that we have new data on that did not exist when I last wrote about the enterprise. During the quarter, sales came in at $97 million. This represents an increase of 57% compared to the $61.8 million generated one year earlier. The greatest growth during this window of time for the company came from its North American Wholesale segment, with revenue shooting up 63% year over year. According to management, this was driven by robust sales across the board. For instance, its Stacy Adams brand grew at 68%. Nunn Bush jumped 50%. Florsheim grew by 82%. BOGS/Rafters jumped 52%. And Forsake skyrocketed 121%. Management attributed this all to strong consumer demand and higher selling prices. They also said that the third quarter one year earlier saw sales suffer because of supply chain delays that caused some third-quarter orders to ship in the final quarter of the year.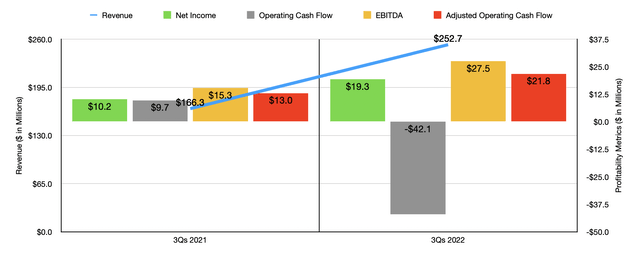 On the bottom line, the picture looked much the same. Net income more than doubled, jumping from $5.1 million to $10.8 million. Operating cash flow actually worsened, going from negative $17.4 million to negative $23.4 million. But if we adjust for changes in working capital, it, too, nearly doubled from $6 million to $11.3 million. And finally, EBITDA almost doubled, jumping from $7.6 million to $14.9 million. The results that the company saw in the third quarter were not a one-time event. For the first nine months of 2022, sales came in at $252.7 million. This stacks up nicely against the $166.3 million reported at the same time one year earlier. Net income jumped from $10.2 million to $19.3 million. Once again, operating cash flow worsened, falling from $9.7 million to negative $42.1 million. But if we adjust for changes in working capital, it would have gone from $13 million to $21.8 million. And finally, EBITDA for the enterprise almost doubled from $15.3 million to $27.5 million.
Unfortunately, management has not provided any real guidance for the 2022 fiscal year in its entirety. The only forward-looking statement of substance that they made is that, at least in the North American Wholesale segment, they are anticipating a decline in revenue in the final quarter of the year compared to the same time one year earlier. This is due to the aforementioned shift in deliveries. But that does not stop the fact that the second half of the year as a whole should still be stronger than the second half one year earlier. If we annualize results experienced so far for 2022, we would anticipate net income totaling $39 million. Adjusted operating cash flow should be $44.1 million, while EBITDA should come in at around $44 million.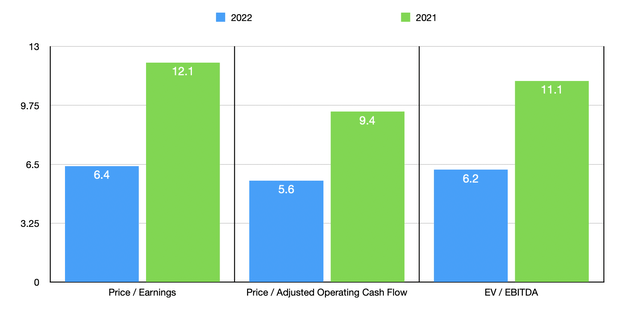 If we use these numbers, we can estimate that the company is trading at a price-to-earnings multiple of 6.4. The price to adjusted operating cash flow multiple is even lower at 5.6, while the EV to EBITDA multiple should come in at 6.2. By comparison, if we were to use the data from 2021 under the assumption that financial performance will eventually revert back to what it was previously, then these multiples would still look quite affordable, coming in at 12.1, 9.4, and 11.1, respectively. Based on current pricing though, shares of the company look reasonably priced compared to similar firms. Five companies that I looked at that are similar in nature to Weyco Group were trading at price-to-earnings multiples ranging from a low of 6.9 and a high of 25.4. Using the EV to EBITDA approach, the range was from 7 to 17.8. In both cases, three of the five companies were cheaper than Weyco Group. Meanwhile, using the price to operating cash flow approach, the range for the firms was from 16.3 to 107.8. In this scenario, our target was the cheapest of the group.
Company Price / Earnings Price / Operating Cash Flow EV / EBITDA Weyco Group 6.4 5.6 6.2 Crocs (CROX) 13.5 16.3 12.1 Skechers USA (SKX) 10.4 107.8 10.2 Deckers Outdoor (DECK) 25.4 49.4 17.8 Wolverine World Wide (WWW) 6.9 22.0 9.0 Steven Madden (SHOO) 10.5 20.2 7.0 Click to enlarge
Takeaway
At this point in time, I understand that some investors might be worried about the future because of broader economic concerns. There's also some uncertainty, as I highlighted above, about the final quarter of the year for this firm in particular. But all things considered, the company seems to be doing quite well for itself. Sales are growing, taking profits and cash flows with them. The stock also looks cheap on an absolute basis while looking affordable compared to similar firms. Absent something materially changing for the worse, I see no reason to rate the company any lower than the 'buy' I had rated it previously.